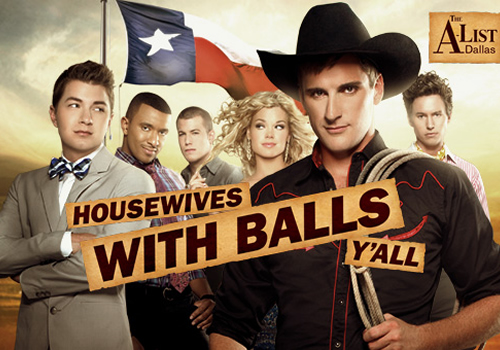 Next up in my Logo TV "The A-List: Dallas" interview series is Taylor Garrett's prayer buddy, Ashley Kelly (Facebook, Twitter, website).  She's a hard core fag hag and devout southern Baptist.  On "The A-List: Dallas" episode 1 she lets us know, "I can't have straight friends.  Straight men are animals- except my husband and my dad."  Besides that, she loves her big blond ringlets and giving her credit card a workout in Dallas's finest shops.   She's definitely got that southern belle charm or maybe that's part of what they mean by "Dallatude."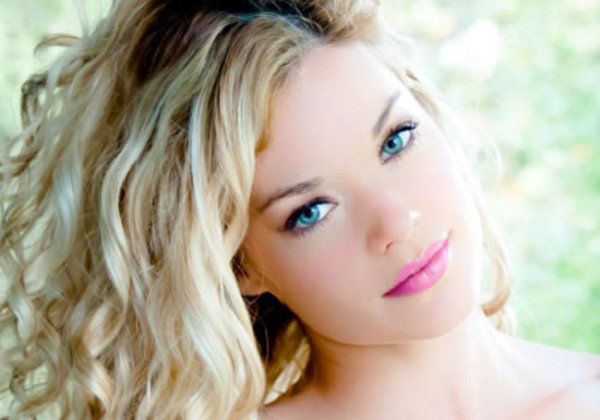 Here's my interview:
Ifelicious: I've been wanting to talk to you for a lot of reasons. One, because the 'A-List' series has not always had a female in it, so naturally there's a comparison between you and Nyasha initially because that's the only other female that we have to relate to. Clearly you're different people, but did you watch this season of 'The A-List: New York?'
Ashley: Girl, every [season] they have out, I have seen.
Ifelicious: What are your thoughts on Nyasha? What do you think about her being on the show?
Ashley: I think it's fantastic that's she's on the show. I'm actually a big fan of hers and I watched her in her pageant show. I think she's absolutely beautiful, and God blessed her with lips that He has blessed no other woman in the entire world with, and that's a little unfair (jokingly). I think she's so fierce, and I like to watch her. She's so different than I am. She's very bold and fierce.
Ifelicious: Ya, I think she brought a very different chemistry to 'The A-List' this season. In contrast, we have you which is great, too. Now, we get to see a little different spin and different cast altogether in general…Like I asked Nyasha when I met her, what was your reason for doing the show?
Ashley:  Well, actually I took my friend to the audition because he's a gay boy…I went into the room with him, and then they saw me and they started interviewing me. This whole time I'm thinking 'this is probably on his behalf,' so I was talking about him, talking him up and saying all these good things about him, and then they called me back…for a second interview and they started asking me questions about me, and in a very New York fashion, they were like, 'No, we're done with your friend. We don't care about him. We're here to see you right now,' and I was like, 'What?' They kept calling me back and [finally] offered me the spot. I had very serious conversations about it at the dinner table with my family and they were just not into it because here in the south gay is very foreign to them, and my dad basically did not approve and told me 'no,' and so I went back and told David Stefanou, 'I'm thankful but I just can't do it,' and then he encouraged me to reconsider. I went back again and talked to my family about it, and my mom was really like, 'Ashley, you have to do this.' So after a lot of prayer, I feel like the Lord put me right where I am with all these boys, all these cameras, and all this drama.
Ifelicious: What did your husband say about doing the show?
Ashley: The only thing in the world that my husband cares about is me being home. He just wants to spend time with me. This is not my first rodeo, like I worked for an entertainment company, and I've been in front of the camera before with the Dallas Cowboys cheerleaders 'Making the Team' season 4 and especially season 5, and I love to perform, and I love to be right in the mix of everything so he's used to it…It's a far away drive for me to go to Dallas and I've been doing that for several years…to film and for my business…so it's just kept me away a little bit more while we were filming…but it's really cool because he's starting to see a whole other culture, and he's starting to gain a respect for it that I never knew he was capable of having as a straight policeman. There's a lot of bigotry within our small community especially amongst those who are in uniform, and it's really been eye opening for all of them, and I think that's one of the things that God's doing in [my husband's] life. So it's been a positive experience all around.
Ifelicious: So he's willing to be supportive and open.
I saw on your Facebook page that you learned to do an oil change and jump a car. What stories were behind that?
Ashley: Well, I have never known how to change my oil, and I wanted to know how. I am a college educated woman, and there's nothing in this whole world that I cannot do, and so I'm trying to learn everything I can, and I don't need to rely on anybody to change my oil…so we went to my family's mechanic shop and, girl, I got under that car and the pipes were so hot, and they're so close to your face. Honestly, I felt like my eyelashes were touching the pipes. It was very intimidating, but it was a really cool experience.
Ifelicious: Is that the same time you learned to jump a car?
Ashley: No, I learned that the weekend before, and that's what kind of inspired it. It was three straight men around and they were like, 'No, no! We got this,' and I was like, 'No, sweetheart. That's my car. This is a prime opportunity for me to learn how to jump my own vehicle so you need to back off. I'm doing this, and I need to call my husband.'
Ifelicious: So let's talk about your interaction with some of the other folks in the cast. You're good friends with Taylor. Did you know anyone else before?
Ashley: Yes, I knew Chase, and I definitely had known James for a while.
Ifelicious: So Phillip and Levi were new.
Ashley: I've seen Phillip around. You know, it really is a small community. I feel like I've known him forever. I know I've kind of met them both before, but it's just that we were not more than acquaintances before the show.
Ifelicious: Where do you fall when drama goes down? Was that you throwing a glass at someone at the end of episode 1 when they show a few clips?
Ashley: I would never! (laughs) Well, there's one scene where Levi and I get into it just a little bit. Levi and I have a very very big brother and sister kind of relationship. That's kind of our dynamic. At the end of the day, I love with all of my heart every single one of these people…I think my problem is that I think I know everything, and I think my answer is always the best, duh! So I'm a master diffuser…A lot of times a lot of our problems are miscommunication and he said, she said telephone gossip, and they just need to talk about it and confront it…Then when you hear something that you told somebody was supposed to be a secret, things kind of blow up sometimes, so it's like you just need to go straight to the horse's mouth and talk about it, so I feel like I'm a peacemaker unless it's my own issues then I don't know.
Ifelicious: I know you enjoy shopping so where are some of your Dallas-Ft. Worth area places to shop? Where does that credit card spend a lot of money?
Ashley: Mm, girl! That credit card is known well at Northpark Mall and Galleria. It's sad how well I know the entrances to the Northpark Mall. They need to just put me on the directory so people can call me and figure out how to go places there. There's a little spot called Beads which is on Harry Hines which is kind of like the Chinatown.  I'm really into making my own fashion so I like to go to that wholesale market area and purchase crystals and just give it to a pair of shoes. Like I spend 20 hours rhinestoning a pair of shoes. I like shiny stuff. My husband says I'm a raccoon because I like shiny stuff.
That was my conversation with Ashley.  More interviews with the cast from "The A-List: Dallas" to be posted soon!
Read all of my blog posts about "The A-List: Dallas" including all of the cast interviews – CLICK HERE.
Also, check out all of my posts about "The A-List New York – CLICK HERE. For my YouTube interviews with "The A-List" series- CLICK HERE.
Related Links