CMT's highest rated series of 2011, "Sweet Home Alabama" returns for an all-new, eight episode season beginning Thursday, October 20 at 9:00 p.m., ET/PT. This time, women from big cities and small towns are vying for the affections of Tribble Reese, the handsome former Clemson quarterback and entrepreneur from Birmingham who was the runner-up in the series' first run. In each one-hour episode, set in the charming city of Fairhope, Alabama, ladies from across the country compete for time with this southern gentleman, while each week, Reese is forced to say goodbye to more bachelorettes in his search for true love.
Tribble Reese was raised and went to high school in Mountain Brook, outside of Birmingham, AL, where his family still lives. Reese was recruited by Clemson where he played quarterback and earned a degree in Marketing. After college, Reese played quarterback for the Carolina Speed arena football team in Charlotte, North Carolina. Reese is currently pursuing his MBA and a career in mobile application development while living in Atlanta, GA. Reese's parents are his role models, having been married for 32 years.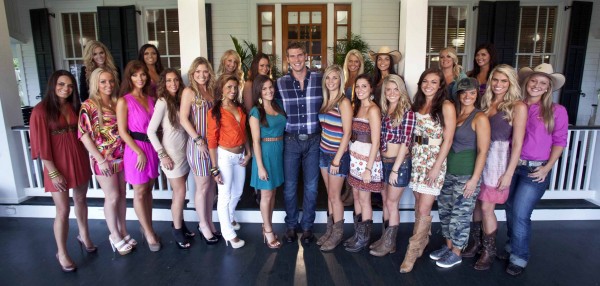 Here are the "city" bachelorettes:
Alexandra Agro- model from Miami, FL
Cassidie Sheets- fashion blogger from San Diego, CA
Cassie Cardelle- pop singer from Hollywood, CA
Chiara Strzeslewski- dancer/model from New York, NY
Colleen Aldrich- tanning salon manager from Long Island, NY
Erin Stack- actress/model from Hollywood, CA
Hailey Glassman- publicist from New York, NY (i just realized she's also known for dating Jon Gosselin..the things i remember, lol!)
Jacqueline Honulik- New York Yankees public relations from Fairfield, CT
Kristina Kraus- aspiring stylist from Orange County, CA
Michelle Weaver- elementary education major from Ft. Lauderdale, FL
Stefanie Williams- blogger/writer from New York, NY
Here are the "country" bachelorettes:
Ashley Ann Vickers- pro barrel racer and model from St. Lucie County, FL
Cassie Rupp- journalist and farmer's daughter from Dighton, KS
Courtney Wilkerson- nursing student from Mobile, AL
Jessica Newsom- retail sales associate from Teague, TX
Mandy Sanders- honky-tonk bartender from Sherman, TX
Nicole Ross- veterinary tech and pro cowgirl from Denton, TX
Paige Duke- former NASCAR spokesmodel and veterinary tech from Lancaster, SC
Tara Bowlin- law student from Knoxville, TN
Tiffany Ginger- US Army sergeant and mechanic from Newman, GA
Torie Mathews- elementary education major from Biloxi, MS
Tristan Smith- nursing student from Robertsdale, AL
Any predictions for this upcoming season?
Season one of "Sweet Home Alabama" featured southern belle Devin Grissom who chose country boy Adam Moyer in the finale that aired on Thursday, September 1. "Sweet Home Alabama" is CMT's highest rated series of 2011 as well as the top streamed show on CMT.com.
"Sweet Home Alabama" is produced by Glassman Media with executive producers Andrew Glassman, Grant Julian and Carrie Franklin.
Season 2 Trailer
Sweet Home Alabama CMT THURS OCT 20 9e/8c from andrew glassman on Vimeo.
Trailer from Season 1
Sweet Home Alabama: Thursday's 9/8c on CMT! from Sweet Home Alabama (CMT) on Vimeo.