Connect with Manika online – Official Website, Facebook Fan Page, Twitter: @ManikaOfficial, YouTube Channel
As soon as I watched Manika's video for "Just Can't Let You Go" featuring teen heartthrob from Cash Money Records, Lil Twist (download on iTunes or Amazon), it's been buzzing around in my head as my "happy song" of the summer.  It's infectious, and I'm just 1 of her over 30,000 Facebook fans that think so.
We spoke for a few minutes just as Manika (pronounced ma-NEE-kah) as she was about to begin her Shop Til You Rock tour around malls across the US.  She has 2 more dates coming up:
Peep the interview below:
Ifelicious: Is Manika your real name? If so, what does it mean?
Manika: Yes, it's my real name, and my mom, she's part Filipino so it's actually Tagolag for 'doll.'
Ifelicious: I know you're multi-talented. I saw in your 'Just Can't Let You Go' video that you play the guitar. You also sing, write, and act. Is there any one of those that you prefer the most?
Manika: Definitely music…Whether it's performing, songwriting, playing on my guitar and piano, I just love music.
Ifelicious: Would you like to get into television at some point, if the opportunity came up?
Manika: Definitely. I just like to perform and be an all around creative person.
Ifelicious: On 'Just Can't Let You Go' did you give writing input?
Manika: That song was written by Francci and Tearce [Kizzo] is the producer. From the beginning, I was saying that I want something pop but a little bit funky, and then Tearce started beat boxing and Frankie started hitting this high note, and it really just clicked from there.
Ifelicious: So you are getting involved with some songwriting as well?
Manika: Ya, a lot of the other songs on my album I song-wrote on.
Ifelicious: Do you have a release date for your album yet?
Manika: We don't have a release date yet, but we're probably going to drop 1 or 2 more singles…this year, and maybe next year, the album.
Ifelicious: Have you recorded all of the songs? Generally, I talk to artists when they've first put out an album and are touring. So what are you performing on the Shop Til You Rock tour?
Manika: Ya, I'm performing songs from my upcoming album, so you can get a sneak peak from that. I'm pretty much done my album. I have more than enough songs…like 20-something songs. I don't really know yet which songs will be on the album.
Ifelicious: Have you picked a name for the album yet or is that still yet to be determined?
Manika: That's to be determined, but we have a few ideas that we're toying with.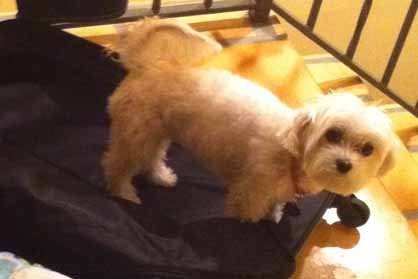 Ifelicious: I hear your dog in the background so I have to ask what kind of dog do you have?
Manika: I have a maltese. Her name is 'Angel.'
Ifelicious: What's your sign?
Manika: I'm a Leo.
Ifelicious: Are you dating?
Manika: No, I'm not dating anyone right now, but I'm looking for someone.
Ifelicious: What do you like in a guy?
Manika: Someone who's nice and sweet and fun. Someone that I can relate to.
Ifelicious: You grew up in an entertainment town.
Manika: Ya, Vegas is my hometown, born and raised.
Ifelicious: When did you move out to LA?
Manika: Officially this year. Before that I was like back and forth.
Ifelicious: What's your favorite TV show?
Manika: I'm kind of a nerd. I love 'Cash Cab' and 'MythBusters,' and I also love the Food Network…like 'Cupcake Wars.'
Ifelicious: Does that mean you like to cook?
Manika: No, I just enjoy watching it, especially like the challenge ones.
Ifelicious: What's your favorite song that's not one of your own?
Manika: I like all kinds of music. My iPod has hip like I love Lil Wayne, Lil Twist– of course, to like Broadway- Wicked, to like pop- Britney Spears, to my influences- Alanis Morisette, Aerosmith, Michael Jackson. If were to name one song, right now I really like that song 'How to Love' by Lil Wayne.
Manika's already off to a good start with her music career.  Don't be surprised if you start hearing "Just Can't Let You Go" pop up on your favorite radio station…or that you can't get the sound out of your head.  😉   <— you're welcome!
Check out this interview with Manika that I found online:
Amateur video of Manika performing live at Katy High School in Houston, TX

Related articles