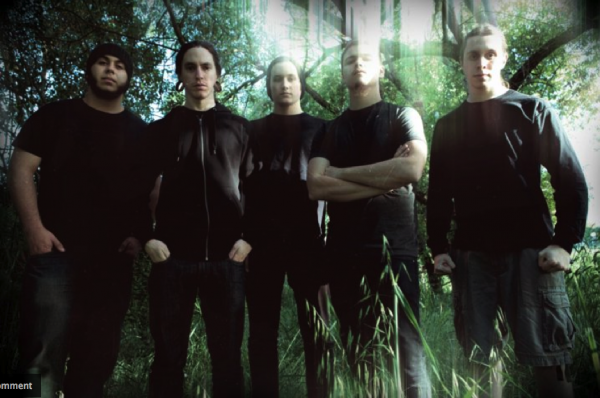 Death metal band Fallujah is getting ready to release their debut full length album "The Harvest Wombs" on November 22, 2011.  This marks the San Francisco Bay area band's first project since being signed to Unique Leader Records in March 2011.  "The Harvest Wombs" is a departure from their earlier style as Fallujah's vocalist Alex Hoffman explained to me in an interview:
"The first song we released was 'Prison of the Mind' and that song is completely based off an idea brought forth by Plato which is called the 'Allegory of the Cave.'  The other ones deal with Nietzsche's philosophy, concepts of death, nihilism, a lot stuff about our culture's Pagan roots.  One thing that was very popular in our old songs that we've distanced ourselves from is the political aspect, but we do still talk about the religious influence as far as Paganism, atheism…basically, differing philosophical ideas and also religious thoughts or concepts are pretty much going to be what defines the theme of the album."
Admittedly unfamiliar with death metal other than what the name implies, I followed up by asking Alex if their lyrics also reflect the band's personal views.  He replied:
"The songs aren't really written from the perspective of us.  They're very much written about certain things.  There are only 1 or 2 songs on the album, maybe only 1 song that deals with religious ideas and they're not really portrayed in a way where it's us speaking about ideas that we want to talk about."
Fallujah originally formed in 2007 in the San Fransciso Bay area.  Over the years, the band has seen a few member changes but now includes:
Alex Hofmann – Vocals
Scott Carstairs – Guitars
Rob Maramonte – Guitars
Rob Morey – Bass
Andrew Baird – Drums
During most of the spring and summer months, Fallujah was been on road performing on their first nationwide tour.  I asked Alex which cities at the time had the strongest positive reaction to Fallujah, and he mentioned Midland, TX; Houston, TX; Kansas City, MO; and Boise, ID which is proof that touring has served them well.  Rob Maramonte, who joined the band in 2009 as a guitarist, had the following to say about touring, "I honestly never thought a couple of years ago that I'd be able to see a lot of the United States.  I've been to a lot of really cool places and met a lot of really cool people."
As of mid-August Fallujah returned home in preparation for the release of "Harvest Wombs."  Make sure to go "Like" their Facebook page to stay abreast of any upcoming tour dates and announcements about the "Harvest Wombs" release.  I know they will be performing at The Mutiny in Antioch, California on September 1, 2011 with Abigail Williams, Apothesary, and Feast (see Facebook invite).  For more on Fallujah, check out the links and video footage mentioned below.
MUSIC DOWNLOADS
Dowload and listen to Fallujah's demo songs – CLICK HERE.
VIDEO
Concert footage taken by a fan…
Related articles