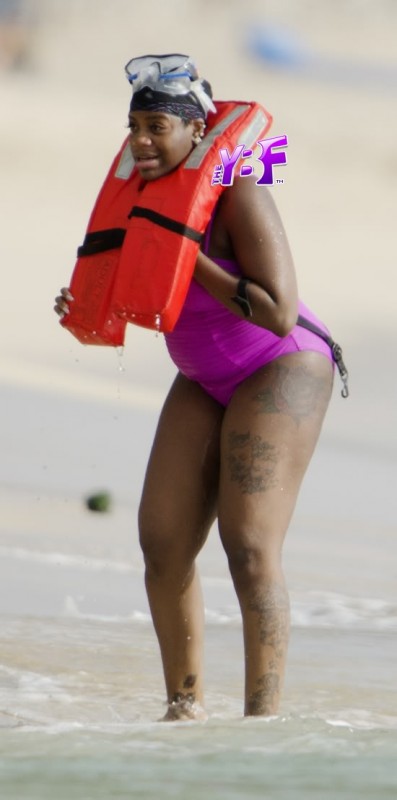 TheYBF.com released a story today confirming ongoing suspicions that Fantasia Barrino, season 3 winner of FOX's hit reality TV series "American Idol" and star of her own VH1 reality TV show "Fantasia for Real," is pregnant.  Her announcement was caught on tape (thanks @MsiCandi) during her July 31, 2011 performance in Jacksonville, FL for the opening of Riverview Apartments.  In the video, Fantasia starts out with:
"You are the first person that I share this news with, and I share this with you because I can relate to you, and for a while, I walked around figuring out what they will say and what they will think about me, but now I tell you I don't live my life for folk.  So, this child that I am carrying, God has given me this child, and I don't have to hide it from none of y'all."
Then she continues with her song "Even Angels." Watch the full video clip below:
In summer 2010, reports began surfacing that Fantasia was having an affair with Antwaun Cook at which point he released an official statement confirming the affair through his lawyer.  It is presumed, though not yet confirmed, that Antwaun is the father.  According to RadarOnline, Fantasia eventually confessed in court that her suicide attempt in August 2010 came after aborting a prior pregnancy by Antwaun.  I wasn't able to find online if Antwaun's divorce from wife Paula Cook has been finalized, but let me know by email or commenting if you have seen a report.
I'm not sure if VH1 is planning a 3rd season of "Fantasia for Real" but I'd sure like to see how this all plays out.  Yes, I'm being a voyeur, but I'm also rooting for Fantasia to get to an even better place in her life and it seems like she just keeps getting caught up people that don't have her best interest at heart.  It became really clear during her reality show.
Sidenote:  WTH is Fantasia performing at the opening of an apartment complex?  She's way too far in her career to be doing stuff like that.  She needs to hire me as her publicist and manager, lol! ~Ifelicious
Related articles