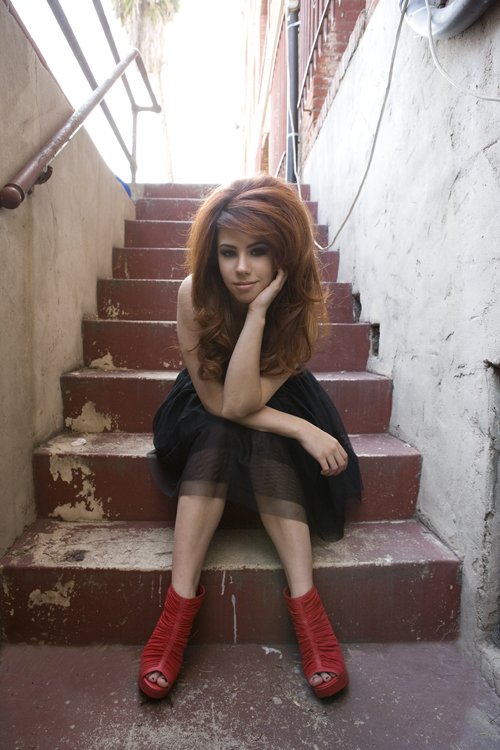 After our weekly dose MTV's "Teen Mom" on Tuesday nights at 10:00 PM ET/PT, featuring the original cast, it's time to wind down from the reality chatter about bills, boobs, and court dates.  Have no fear, "Awkward." is here at 11:00 PM ET/PT on MTV to sober us up with a brilliantly scripted comedy of those glorious high school years filled with hormones, angst…and yes those totally awkward moments.  The show is narrated through the eyes of diffident Jenna Hamilton (Ashley Rickards) whose life plays out on camera with her school mates and a series of blog posts.  Jenna's super outgoing bestie, Tamara, is played by Jillian Rose Reed who possesses a look and energy that is so teen "Punky Brewster" -esque to me.  I interviewed her after the first episode aired and will share it with you shortly.
You gotta love Tamara's yang to Jenna's yin with lines like:
"Now you're just being emo."
"She's a primo bitcherina who buys her popularity."
"Where are you on the Britney-meter?"
and those are just a sampling from the first two episodes (the show has its own vocabulary, read about some of the sayings – CLICK HERE).
Watch this video that explains the show's premise:
INTERVIEW
Jillian Rose Reed may not be a household name quite yet, but if you watch "Weeds" on Showtime you may remember her as one of Shane Botwin's goth girlfriends named Simone that appears in part of season 4 and 5.  Goth girls Simone and Harmony (Hannah Marks) take an interest in Shane after he beats up a bully at school.  The girls pop his cherry and give him an STD.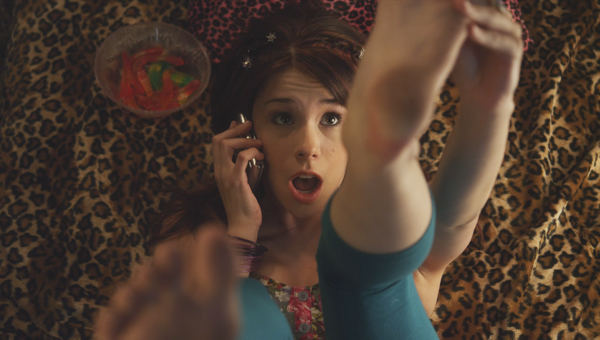 Here's my interview with Jillian.
Ifelicious: How did you first learn about 'Awkward.'?
Jillian: Well, I first got the audition sent over from my agent and manager, and I read the script, and I just loved it. I thought it was the funniest and smartest pilot script that I had read in a really long time. So I was immediately drawn to it, and there was kind of this feeling I just have to be part of this project. So when I went in for my audition, I was so connected to the character of Tamara, and I had her down so well. I did my audition, and it just went from there…It's just been an amazing ride.
Ifelicious: You just mentioned that you felt that were closely related to the Tamara character. Was there a chemistry with the rest of the cast as well once you guys got together?
Jillian: We're all so close. We all hang out with each other on set. We hang out outside of set as well. We all talk almost every day, and it's just so great because everyone is so dedicated to the show. They're just hard working actors that it makes it so much fun to come into work and be with these people that we all love and that love the show.
Ifelicious: Did you watch the first episode? You've probably seen the whole series, right?
Jillian: I haven't seen the whole series, but I did see the first episode. Lauren [Iungerich], our show's creator, was nice enough to open up her home to all of us. So we all actually got to go over there and got to bring all of our friends ,and we had this big get together to watch the premier.
Ifelicious: What was the vibe like being that you shooting and behind the scenes while your friends were watching the show for the first time? What was their reaction like so far?
Jillian: It's always crazy for us as the cast to see the finished product and see what it all came out to, but it's also so special to be able to sit in the same room with all of your friends and see their reaction.  There was so many of us watching it all together, and when my name came on the screen everybody cheered, and everyone laughed at all of the funny lines and clapped when it was over, and it was just a surreal experience. I almost cried when it was all over because it was overwhelming how much people took to the show and liked the show, and especially coming from my friends, they just, they loved it.
Ifelicious: What was your favorite and most challenging episode to shoot?
Jillian: Through the course of the show you see a lot of ups and downs of all of the characters and each episode kind of teaches you a lesson. We had one episode later on in the series that deals with partying, and that was the most fun that I had shooting because that was something that I wasn't necessarily used to…I've never played the party girl. So being there with all of my friends who are my cast mates and being able to be in this party situation was different for all of us. It was so exciting.
One of the most challenging episodes was when Jenna and Tamara end up having a little bit of a fight…I never fought with my best friend ever, so being able to pull on emotions that I've never really had with my real best friend to create something in Tamara's role was definitely challenging for me.
Ifelicious: That must be good to have a best friend that you've never fought with. You must have an understanding between each other or something. Everybody has conflict at some point.
Jillian: Ya, there's definitely been conflict. She's been my best friend for about two years now. We're kind of like best friend soul mates. When something comes at us that's a little difficult, we handle it. We've never gotten in a big blowout. There will be sometimes when I'm like, 'OK, that's a little annoying,' and she's like, 'You're right. I'm sorry,' but I'm really really lucky that we don't fight.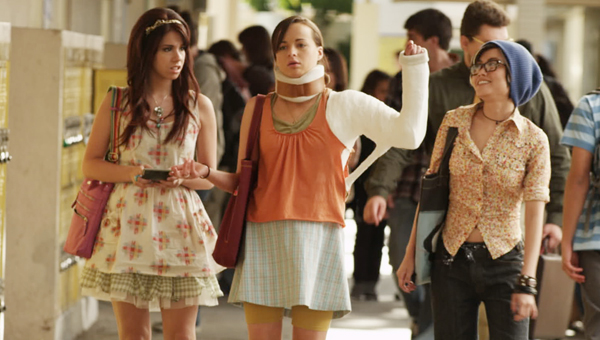 Ifelicious: Who are people in your life that are like the different characters on 'Awkward.'?
Jillian: For Tamara…there's a little bit of everyone I know in that character which is awesome.
Jenna's a harder one because she's finding herself and she's trying to discover things about herself and grow into the person that she is…so I don't necessarily think I have a Jenna…but I would say that everyone has that underdog in them.
Ming, is the fun loving best friend. She's kind of the peacemaker. I definitely have that person. I have a friend from back home, actually. Her name is Emma…I don't get to talk to her a lot because she is back home, but when we do talk, we give each other the lowdown on entire life, and there's always one moment where she's like, 'Oh, you're doing so great,' and she kind of keeps me sane in that way and that's definitely how Ming is in that series.
I don't have a Sadie. Sadie's the cheerleader. She's the mean one on the show…I mean, obviously, people that I hang out are my friends, but you definitely know that person in high school that's kind of the bully, the mean girl, so I probably have had that in high school. That girl that just didn't like me for whatever reason.
For Matty and Jake, I have two really great guy friends in my life that I don't know what I would do without, so I can definitely say I have my Matty and Jake that I can go to for anything. I can even sit down and talk with them about my guy problems. I'm actually really close to Brett [Davern] that plays Jake, and he's kind of like my big brother.
Ifelicious: How is dating life now? Are you seeing anyone?
Jillian: I'm not. I'm very single. It's funny, all of my friends, we're all single right now, so we've kind of made this pact that, 'OK, it's summertime. We're just going to have fun with the girls ,and we're just going to go to the beach, and we'll look awesome and have fun, and whatever happens happens.'
Ifelicious: Do you get to interact much with the show writers?
Jillian: Oh ya, the whole cast is very close with Lauren Iungerich who created the show. We keep in touch with all of the writers and everyone in production. We're all following each other on Twitter and sending emails…everyone is like a big family.
Ifelicious: Now that you're done taping 'Awkward.' what else are you doing?
Jillian: I just did an episode of 'Pair of Kings' for Disney XD so that is something that will be coming out in the near future, hopefully. Other than that, I'm just auditioning and trying to keep busy with work.
Ifelicious: OK, so it's back to the grind, huh?
Jillian: Oh ya, right back to it.
VIDEOS
Jillian describes her role of Tamara on "Awkward."
Jillian describes her own awkward moment (see all of the cast tell their tales – CLICK HERE)
Interview with Jillian on FOX Detroit (see accompanying article – CLICK HERE)
Off the Rack with… Jillian Rose Reed – CLICK HERE
Gurl.com interview with the cast members from 'Awkward.' – CLICK HERE

KTLA interview with Ashley Rickards who plays "Jenna" on "Awkward."  You'll see a clip with Jenna and Tamara (Jillian Rose Reed) from episode 2 around 2:25 into the video. – CLICK HERE