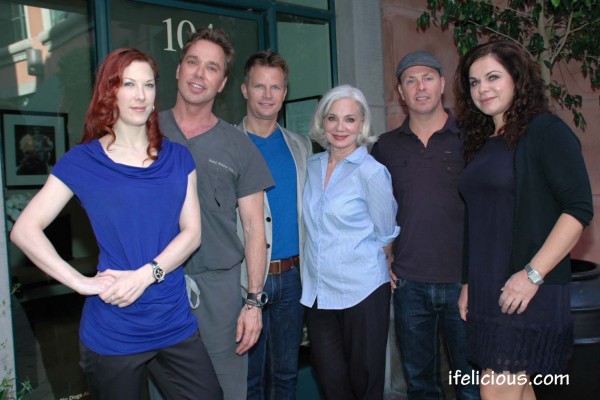 For 9 episodes, we've watched and been entertained by the super accommodating Rand Rusher, RN; his task master of a business partner Curt Meeuwsen; and the rest of the staff at rr Aesthetics in Beverly Hills on "Pretty Hurts" as patients try to turn back the hands of time with freezers, fillers, and laser treatments.  "Pretty Hurts" airs Saturdays at 8:00 PM ET/PT on Logo TV and is produced by Go Go Luckey Entertainment.  Knowing that tonight is the season finale, I wanted to follow up with the cast while out in LA this week since speaking with them at the NewNowNext Awards 2011.   So, I took a field trip out to their offices in Beverly Hills where the show is taped to meet the fun bunch who make up the cast of "Pretty Hurts."  I am forever grateful, or they're all camera whores (lol!), because everyone managed to clear their calendars for the evening chat it up with me.  I met: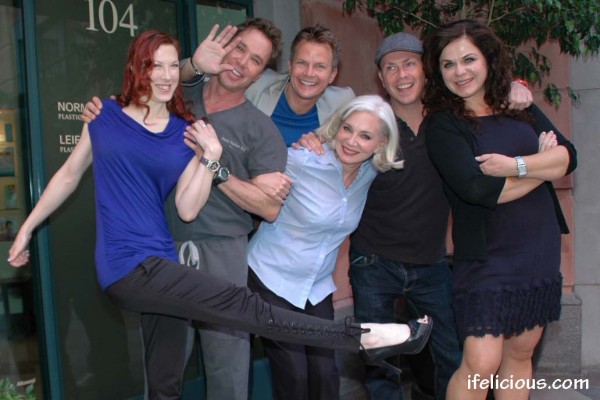 With the offices open for 6 days a week, filming for the reality series took place on 3 of them for 12 hours each day.  Spoiler Alert:  Patients were a combination of existing clients and some chosen by producers to add that unpredictable factor.  While I'm tossing out spoilers, know that there will be tears shed by several cast members on tonight's finale.  I learned a few other interesting factoids as well.  Everyone in the cast has done some type of anti-aging treatment/procedure.  Rand was not shopping a reality show; rather, several production companies pitched show ideas to him.  Curt and Rand are working on a new skincare line.  They currently co-own Leaf & Rusher luxury skincare line with Dr. Norman Leaf (plastic surgeon). Their new line will offer some fantastic options at a new price point.  I'll be sure to share more info as I get it.
As far a season 2, Rand is not sure but certainly hopeful.  I am, too.  Hey Logo! Season 2! Season 2! Season 2! *spirit fingers* *back flips* *high kicks*  😆
After checking out the offices and taking some photos, Rand decided it would be more fun to chat over drinks and eats.  So we headed over to a fairly new restaurant called Taberna Mexicana in Beverly Hills.
I managed to sift through the banter, wisecracks, and camaraderie that comes with long time office mates out for a happy hour that happens to be an interview to jot down a few highlights.  Their personalities definitely came through.  My favorite parts were listening to Curt speak about himself in the third person, when Rand told me that he teases Elizabeth for having Ronald McDonald hair, and discovering that Maya is such a ham.
Ifelicious:  Is Rand always running behind schedule?
Elizabeth:  Rand tries really hard, but he cannot help it…
Rand:  I just got in trouble yesterday. (laughs)
Elizabeth:  It takes a lot to keep him moving and going, but he really spends a lot of time with his patients which is why everybody comes to see him.
Ifelicious:  What's your favorite moment from the season so far?
Korbin:  The pole dancing was fun, and Rand wacked himself in the, uh, private area, and I loved pink lady.
Joy:  One of my favorite episodes was when we had to do the newsletter.  Maya got up there, and Maya was reading her newsletter all in Polish.
Maya:  The cleanse was fun.
Ifelicious:  Who stuck with the cleanse?
Rand:  I was the only one.
Ifelicious:  Are you watching the season right along with us?
Rand:  We actually don't get to watch the show until you do.
Ifelicious:  Curt, you seem to be the one that keeps everyone focused on the business at large.  The one that…
Curt: Cracks the whip?  But I'm a really nice guy.  It's false advertising!
Ifelicious:  Now that you're more recognizable from the show, tell me about some fan moments?
Elizabeth:  I was in the elevator texting on my phone and all of a sudden a woman behind me goes, 'You're that girl from that show!' and I just turned around and smiled.
Maya:  Someone came up to me and said, 'You work on that show!  You work with that big handsome guy!'
Joy:  When I was going back to North Carolina, I got an email from some of the distant relatives asking if I would do an autograph signing at the family reunion.
Ifelicious:  Rand, you and Curt used to date each other.  I can't imagine running a business and working with someone that I had been really close to for so long and it just not complicate things and get a little personal at times.
Rand:  It does [get personal].
Curt:  Tell her about the lit matches you throw at my head!…A lot of people can't understand how we can be how we are, but after being with someone for 12 years, now 17 or 18.  I don't know.  We just get along well, until the last episode.
Ifelicious:  Give us a little taste.  I haven't seen any previews online.
Curt:  We were thrown into a therapy session and this woman came in to try to sort of see if Rand and I would be able to rekindle or figure out our relationship.  See, looking around the table, a lot of people want Rand and Curt to get back together, so it was a little emotional.
Rand:  Put it this way, Maya cries on the finale.  There are tears shed on the finale.  Several people cry.
At this point, Tom Dickerson walks in and sits down at the table.
Curt:  Here's Tom, the one that said my newsletter stunk.
Rand:  Tom, why don't you tell us where you work?
Tom:  I work at a small lingerie company.
Rand:  What's it called?
Tom:  Naked Princess.
The whole table erupts in laughter at Tom's expense.  I'm glad that Rand made Tom share something about himself because I didn't know much about him from watching the show other than he's a friend of Rand's.
Curt:  Plus he's a defector from Leaf and Rusher…He also works at a company that makes bras and panties- as gay as you've ever been.
Ifelicious:  So now I'm all confused.  How did you end up on the show?
Tom:  I'm just friends to all these people…
Curt:  Tom is like Rand's best friend that is on the show every now and then.
Ifelicious:  And we don't see much of you, Korbin, either.  Did you end up on the editing room floor?
Korbin:  Yes (laughs).  I think what it was, Logo wanted the people that do core services in the clinic, and I don't do that.  I work for the product.
Curt:  And we actually have a different office for that.
Ifelicious:  Besides Curt and Rand, who's been working here the longest?
Maya:  Me.  I started in an office working together with Rand 14 years ago [working for Dr. Leaf].
Rand:  I kidnapped her maybe 12 years ago…We've been working together under this business for 8 years.  Joy for 7 years.  I can't get rid of these people!  I've tried and tried and tried.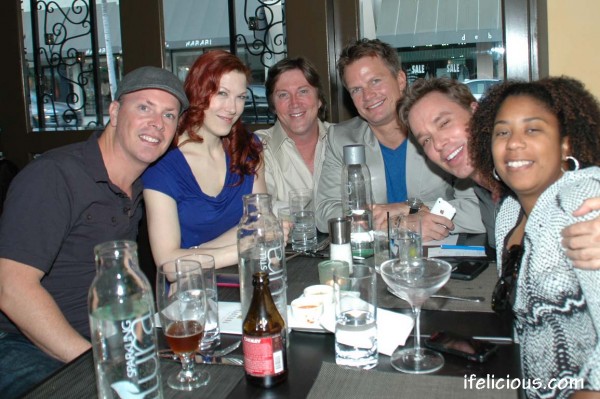 Make sure you're watching right along with me at 8:00 PM ET/PT on Logo for the season finale of "Pretty Hurts."  In the meantime, check out a few sneak peak videos from tonight's season finale below.  Have you been watching the season?  If so, I'd love to know what you've thought about it.  Who are you cast favorites?  What were your favorite moments from the season?  Do you want Logo to do a season 2?
VIDEO: Issues Hurts. Sneak Peak 1.
VIDEO: Issues Hurt. Sneak Peak 2.
Related articles