Mention Dylan Dilinjah's name and most people will immediately retort with "Dylan, Dylan, Dylan, Dylan, and Dylan" from  Dave Chappelle parody of Dylan, who competed on MTV's "Making the Band 2" during the Diddy era, that left him immortalized into eternity. For three seasons, beginning in 2002, we watched Da Band, whose members were selected from a group of 40,000 hopefuls, run for cheesecake, try to earn studio time, fight, cypher, rap battle, argue, and oh, did I say fight?  😉 During their run on reality TV, Da Band members Dylan along with Sara Stokes, Lynese "Babs" Wiley, Frederick "Freddy P" Watson, Lloyd "Ness" Mathis, and Rodiney "Chopper" Hill released their only album "Too Hot For TV" that went Gold. Dylan brought the reggae flava to the hip hop group but he also appeared on camera as arrogant, contrary, and irresponsible.  Fans loved him but wondered if he appreciated the pot of gold laid before him. By the end of the third season, it came as no surprise when Diddy folded Da Band and Dylan was one of three members that were released from Bad Boy altogether.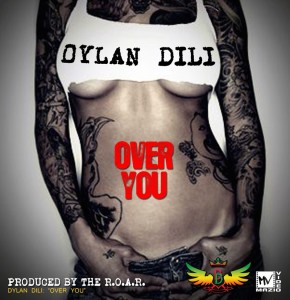 If you ask Dylan, he'd probably tell you he was handed a pot of fool's gold. He and I spent an unprecedented hour on the phone while I put on my Barbara Walters game face hoping to probe beyond Dylan's reality TV persona, what he learned from it, what he's been doing since "Making the Band 2," and what's next.  I didn't get any tears as Barbara infamously can, but I did capture moments raw emotion from a man who was deeply hurt by the outcome from just add water and stir stardom that reality TV brings.
Now, Dylan has put his "bad boy" days (in all senses of that phrase) behind him and is ready to start anew as a solo artist.  Recently signed to Expat Records, Dylan is working on an album that he plans to release before the end of the year.  The first single off the yet to be named album entitled "Over You" will be released as a digital track and video on July 18, 2011.  According to the press release, "'Over You' is an uptempo dance/club/pop song dedicated to those who are 'over' their ex or other past bad experiences. It is designed to make the listener dance and move forward in life."
Outside of his music career, Dylan is also a full time dad, author, and part time college student who's working to keep food on the table until his music career really takes off.  Dylan describes himself as a much happier man than we saw back in 2002 and that the best is soon to come with regard to his run as a solo artist.
MTV, Diddy, and Da Band…
I started out with questions that many of us wanted to know regarding Dylan's days on "Making the Band 2."
Ifelicious:  First off, is there anything you want to clear up that may have lingered since the show?
Dylan:  Everything.
Ifelicious:  How do you think you were represented on the show as it relates to the person you were at the time?…Would you say it was pretty accurate?
Dylan:  No…I was coming straight from the streets.  I was a DJ first, and then after being a DJ, I was just on the streets heavy…I was sentenced to go to jail for a year.  I was out on bail when I went to the audition for 'Making the Band'…My jail sentence was to start in October.  September 7th was the 'Making of Da Band' audition.  So my thing was, 'I'm just going to enjoy my life for the few months, go on this audition, maybe a few people might recognize me, do my year in jail, and when I come out, people are going to recognize me maybe, and then I'll keep shopping for a record deal.'  And everything changed overnight.  Not only that, but my [brother had just] got sentenced to five years in prison.  The same day that I was picked for the actual band, my family member was on a bus riding up north, upstate [New York] to do five years in prison.
Ifelicious:  What were you sentenced for?
Dylan:  It was just some assaults, nothing crazy, but it was just the fact that at that time, that was my closest family member.  So when he was going through that, I was going through this, so it was a bittersweet moment…
He continued…
I didn't understand or respect authority at all…the only people I really had respect for were the dons and OGs in the street.  So with that mentality…when somebody says to you, 'Bam! Listen, Dylan, you're going to sign to P. Diddy, make an album and you're going to join the group.'  That I looked forward to.  That's it…So when he says, 'Walk for cheesecake, or do this workout, or do this assignment,' I'm like, 'Huh? Where did this come from?'…I didn't know that this was for jokes and everybody else's entertainment because I'm coming from f*ckin' jail, and I'm trying to make music, and I'm going to be respected for music, and that's what hurt the most.  I was caught up in this reality show matrix that I didn't sign up for.
Dylan summed up his experience on MTB2…
I tell people, 'Making of Da Band was the most exciting and most unhappy time of my whole life.'  I had so many exciting moments- meeting Jay Z, meeting Beyonce, meeting Stevie Wonder twice, meeting Alicia Keys, hanging out with Sway from MTV, meeting all these great people, meeting Patti LaBelle.  That was exciting!…but you can't find one picture…of the Making of Da Band time where I'm smilin'…If you look at my pictures right now, I'm smiling every day.  Life is good, I'm happy, I'm content, I'm in a good place.  I wasn't like that before.
After listening to Dylan's perspective, I felt I would be remiss if I didn't address how we felt as we watched the series.
Ifelicious:  The way we saw you, it looked like you didn't appreciate the opportunity.
Dylan:  I don't want to say that I didn't appreciate it.  It wasn't that at all.  I just knew that I didn't understand why.  Here's the difference between me and other people, especially back then.  When an authority figure says, 'Everybody jump this way,' and everybody jumpin', and I stop and say, 'Why are we jumpin?'  Now, when…I ask why…from Monday to Friday, by the weekend he's going to edit the show [and] make you look like you don't appreciate it.  It wasn't that I didn't appreciate it.  I appreciated every second of it, of course.  Shit, I didn't go to jail!
If you can't recall how the episode went down regarding Dylan's jail sentence coming to Diddy's attention, I found a decent recap on Reality News Online – CLICK HERE.  The way Dylan was portrayed on "Making the Band 2" really impacted him as he continued to explain:
Dylan:  Millions of people all over the world, forget just America, but we're talking England, Italy, Japan, all these places that are watching it like, 'Oh you don't appreciate it,' and I'm over here like, 'What are you talking about?'  That's sad.  That hurt, and I'm still grown enough to say…I have no animosity towards [Diddy].  The business is the business.  The industry is the industry.  Real people are real people.  This is just how the game goes.
Ifelicious:  Well, you know that now.
Dylan:  Ya, now.  Of course at the time I blasted off.  I came up with 'Life After Diddy' the mixtape that downloaded over a hundred thousand copies.  I blasted him off on Hot 97, and I was hangin' out with Suge Knight.  I was doin' all kinds of craziness…Everything I did was just careless and headless, straight fuckin' emotion…There was no love because I felt like I…was crucified by the whole media.
This isn't the first time that Dylan's attempted to explain those MTB2 years.  I found this post written by Dylan on ProjectCOVO.com back in 2006 – CLICK HERE.  He also sat down with Ms. Drama back in 2009 for an interview "Dylan Dilinjah talks music, Da Band beefs, why he was mad at Diddy."
Chappelle parody…
Before moving onto the next chapters in Dylan's life, we spoke about the Dave Chappelle parody.  Comedians like Dave Chappelle enjoy poking fun at pop culture and "Making the Band 2" was no exception.  While the skit was about the entire cast, by far the most memorable moments were directed at Dylan portrayed by Dave himself.  While we laugh to this very day at one of Dave Chappelle's most brilliant moments during his run on Comedy Central's "The Chappelle Show," Dylan was on the receiving end and offered his personal reaction:
Dylan:  Then David Chappelle comes along, and David Chappelle put it on steroids which was a great thing because David Chappelle is not going to do a parody of anybody who's not famous or…of somebody who hasn't made some kind of influence so it's great in that aspect…He actually made me stick around.  He turned that 15 minutes into an hour.
Ifelicious:  How did you take that when it first came out?  Were you ok with it, the way that he portrayed you?
Dylan:  I just didn't understand it at all when it first came out.
Ifelicious:  Could you watch it even now and laugh and find humor in it, or do you look at the whole thing differently than us who just saw the show?
Dylan:  I think it's funny, but it's like an old joke.
In the next part of the interview, I began asking Dylan about his real life outside of reality TV.  As I mentioned earlier, Dylan is launching his solo career, has primary custody of his son, and is working on his education.  What I didn't expect him to add was that he's also working on a memoir that he hopes to release next year.
GO TO INTERVIEW PART 2 – CLICK HERE.
Related articles