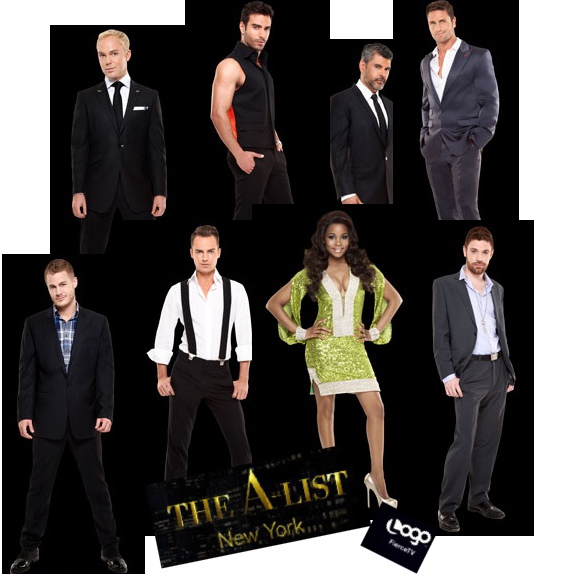 Shut the front door!  They've added a black girl to Logo's The A-List: New York season 2 cast…and it's not ME!  😉   Logo TV is also taking The A-List to Dallas with a new cast to air after The A-List: New York season 2.
Welcome aboard, Nyasha Zimucha, to New York cast.  You can read her bio on her website- CLICK HERE.  I'm still trying to figure out the title Miss Africa USA, but I'm sure one of you will be oh so happy to educate me.  From Logo's The A-List: New York season 2 homepage:
"Logo's gay housewives are back, and their decadent dramas are more outrageous and over the top than when we left them last season. Will Reichen and Rodiney make it this time? Will Austin make more enemies than friends? Will Ryan and his husband make a baby? The entire high-rolling, label-whoring, beach-house-hopping cast returns, with some new frenemies and besties, including fierce gal-pal Nyasha, added to the mix. Whether you love them, or love to hate them, the boys are bringin' it, and NYC is getting guilty with pleasure all summer long!"
NEW! June 14, 2011. Here's the trailer for season 2:
Here's news on the Dallas season from Logo's press release:
"Logo says "Yee-Haw!" to Dallas with the expansion of its hit docu-reality "A-List" franchise from the producers of "The Real Housewives of Atlanta."  Deep in the heart of Texas, this cast of socialite scene-making men and women are out to prove their New York counterparts have not cornered the market on having big dreams and bigger dramas.  Dallas has recently surged onto the pop culture radar as a focal point for food, fashion and fabulous, earning it a spot worthy of exploring with this top-tier cast of natives."
You know what they say…everything is bigger in Texas!  😛
VIDEO: Catching Up with Reichen & The A-List: New York: Season 2 Is Like Season 1 on Steroids!
(Just added! June 7, 2011 at 1:22pm)
VIDEO: Catching up with Austin & The A-List: New York- If the truth makes me a bitch, so be it!
Read all of my blog posts about The A-List- CLICK HERE.
Related Articles
UPDATE: More Related articles