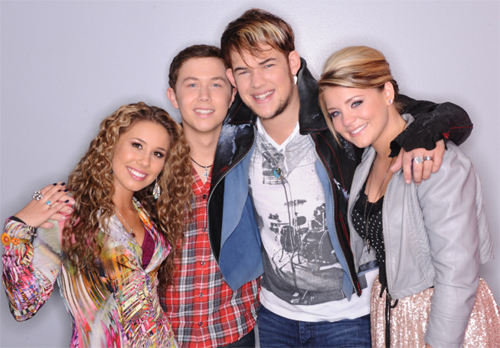 I can't believe that I haven't blogged about Fox's "American Idol" season 10 yet, but I've definitely weighed in here and there on Twitter (@ifelicious). Anyhooz, we are down to two gals and two guys: Haley Reinhart, Lauren Alaina, Scott McCreery, and James Durbin. Last night, was a 90 minute episode (really? do we really need that? i guess it saves running over into other shows like all the previous years) with the four finalists who each got to sing two songs. For round 1, the contestants were to pick a song that inspires them.
James Durban started out the round with the drunken bar sing along slash "Glee" audition song of choice last year (remember that? if not, click HERE) "Don't Stop Believin'" by Journey. It was a bit of a bold move considering Randy Jackson used to be the bassist for Journey, but Randy was the first to applaud his performance.
Next up was Haley Reinhart. Oh dear, Haley picked a beautiful song "Earth Song" by Michael Jackson, but there in lies the problem. Haley, honey, you don't have the voice to take on a Michael Jackson song. I'm glad I wasn't the only one who heard her substituting screaming for soul towards the end. The judges ate her alive, and they should have. What I didn't like is her answering back to the judges. Just take the feedback humbly and get off the stage. That's something she'll need to learn if she wants to make it big as an entertainer. Only a handful of divas who have already made it can pull that ishh off.
On the heels of the capture and killing of Osama Bin Laden last week, Scotty McCreery chose "Where Were You (When the World Stopped Turning)" by Alan Jackson and brought his signature country swagger to it as he does every week. The judges loved it, particularly the fact that he knows his sweet spot and stays there week after week.
Lauren Alaina wrapped up round 1 with a tribute to those affected by the terrible storms that hit the nation's mid-section in previous weeks with Martina McBride's "Anyway." The judges loved her and seemed to mix in feedback that about how they're tough on people sometimes that was really directed at Haley.
Round 1 was called a three way tie by judges between James, Scotty, and Lauren. The camera shot of Haley's face at that moment was priceless, but she had it coming.
For round 2, the contestants had to choose a song written by the legendary duo Jerry Leiber and Mike Stoller. They were coached by guest mentor the Lady Gaga. Boy, "American Idol" has come a long way, hasn't it? I'm lukewarm when it comes to Lady Gaga. I think she's a lot of smoke and mirrors and a lot to be desired on talent and substance to her celebrity persona. I was definitely curious what she'd offer as a mentor, but she was really helpful with her advice about the importance of performing the song as well as singing it. Her choice of words had poor Scotty kissing his rosary beads (or cross…whatevzz) and praying for forgiveness. Eh, it's Gaga.
Ryan Seacrest didn't ask the judges to name a winner for round 2, but I'd have to say Haley just edged out Lauren for the win. I know Haley had to dig deep and she really responded well to both the judges and Gaga's feedback. At the same time, I know Lauren also had to step out of her comfort zone and she did us proud. This was a tougher round to judge in that the songs were so different for each performer. At least no one performed poorly this round.
Who's going all the way?
I always profess that I'm terrible at picking winners for shows like this and awards shows. With that said, I fell in love with Scotty McCreery from early in the competition (it might've even been as far back as Hollywood week), and I'm pleasantly surprised to see he's in the final four. The hubby's early pick was Lauren Alaina and she's also in the final four. Perhaps if we were betting folk, we might've done well this year in that regard. I still think the fan favorite is James Durbin. I personally can't stop wanting to compare him to Adam Lambert which concerns me, as Tim Gunn would say when looking over the progress of the designers on "Project Runway." I don't know if James could sell a lot of albums. There's nothing particularly new about him. He's another good rocker guy. The youth, talent, and originality in Scotty and Lauren I think will translate to album sales after the competition's over and we've almost forgotten about this season of "American Idol." Haley…well, I don't know how she wasn't eliminated much earlier in the competition, especially knowing we lost Pia Toscano way too soon.
Sidenote…
How about Steven Tyler's book plug, eh? If you're reading this and didn't know I did an autographed giveaway of his new book "Does the Noise in My Head Both You?" then you need to CLICK HERE as well as subscribe so you don't miss out in the future!
Related articles