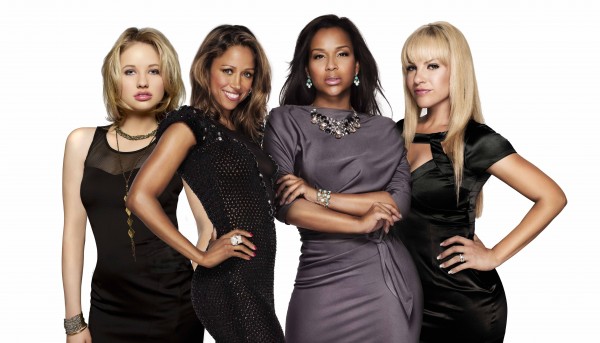 Twitter IDs for main cast:
Gasp! Shock! Awe! VH1 has a brand new series coming out and it's NOT a reality show!  Do you need me to say that again??   😉   Like Beyoncé's anthem, VH1 will be launching a new scripted series called "Single Ladies."  On Monday, May 30, 2011 at 9:00 PM ET, VH1 will kick things off with their first original two-hour movie "Single Ladies," and then the following Monday (June 6, 2011) at 9:00 PM ET, the 10-episode, hour long weekly series begins!
"Single Ladies" follows the lives of three besties Val (Stacey Dash), Keisha (LisaRaye McCoy), and April (Charity Shea) set against the backdrop of Atlanta's burgeoning entertainment and fashion scene as they look for love in the Hollywood of the south.
Watch the trailer below:
Val is an ambitious, aspiring fashion mogul who believes in fate, romance and finding that special someone to be with forever.
Keisha is a former video dancer who believes in making her own luck, her own money and choosing men with her head instead of her heart.
April has found the "perfect" man for the "ideal" marriage – but is learning that marriage might not be her happily ever after.
Also featured is Christina (Kassandra Clementi) who is a free-spirited, wild child intern with an eye for fashion that Val takes under her wing.
Additional cast includes: DB Woodside, Anthony Montgomery, and Travis Winfrey. "Single Ladies" the movie features guest appearances by Lauren London, Eve, Common, Chilli, and Kim Porter. Executive producer Queen Latifah will make a guest appearance in the series.
MOVIE SNEAK PEEK: Spa Day for the Ladies
Related Articles