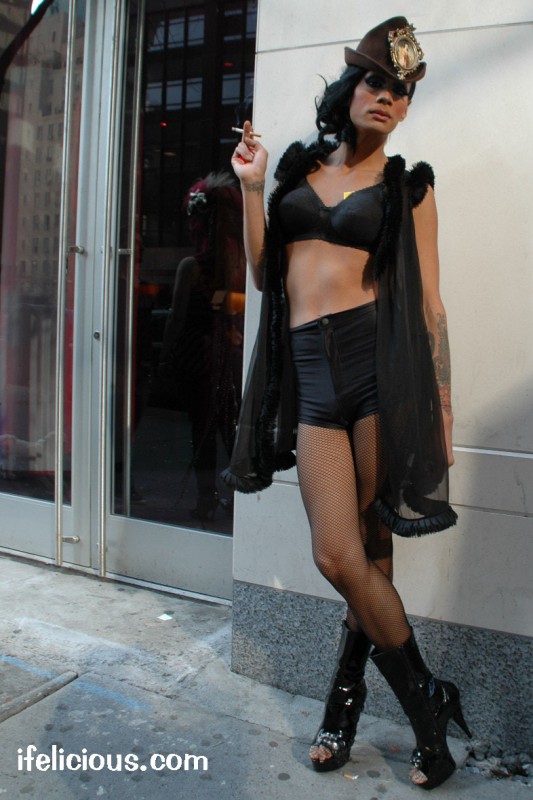 Congratulations to the Raja on the season 3 win! If you haven't watched the finale yet or need to catch up on episodes head over to the RuPaul's Drag Race homepage on www.logotv.com.
On Monday, April 25, 2011, I descended on New York City to celebrate the final episode of RuPaul's Drag Race, season 3 that aired on Logo. Prior to the big party at Providence that was open to everyone, I got a chance to meet many of the season's most talked about contestants including the three finalists Raja, Alexis Mateo, and Manila Luzon at a private press party. Also in attendance were Shangela (host for the evening's festivities), Mimi Imfurst, Carmen Carrera, Stacy Layne Matthews, Mariah, and Yara Sofia. I was hoping to catch a glimpse of RuPaul live and in the flesh, but no such luck for the night.
No one would dish on who won prior to the show airing but I was able to ask many questions about their experiences this season. I can already tell that we won't want to miss the reunion show airing next Monday night at 9:00 PM ET/PT on Logo!
Photos
Here are some photos from the private party:
Interviews
Interviews will be posted soon to my YouTube channel as well as below. Sadly, this blogger gal turned photographer, videographer and online MC by default purchased a microphone from 42nd Street Photo that didn't work so I'm giving you the best of usable footage I got from the night. If you have video equipment that you'd like to donate to me, holla at this gal in need! 😉
The gossip columns picked up on a leak weeks ago that Raja was this season's winner. Based on the amount of press surrounding her, I'm guessing people went with that information as gospel. In this case, the spoiler rumor turned out to be true. I was wise and headed to interview Raja first; however, that's how I discovered my mic wasn't working. 😳 I did take a little of that "silent movie" and incorporated it in the first interview posted below.
Interview: Manila Luzon and Alexis Mateo
Interview: Mariah
Interview: Carmen Carrera
Read all of my blog posts for RuPaul's Drag Race – CLICK HERE.
Other stuff
Thanks to @HipCat for helping me out, Logo for the private party invite, and RuPaul's Drag Race sponsor Absolut Vodka for that yummy Wild Tea I enjoyed last night at the open bar.
Links
Bonus Clip!
Here are my red carpet interviews with various cast members from RuPaul's Drag Race from Logo's 2011 NewNowNext Awards. Check out my complete coverage by clicking HERE.