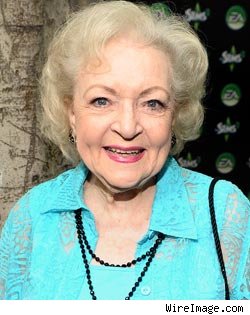 Betty White is headed to reality TV. The 89-year-old actress is set to host her own NBC reality show called "Betty White's Off Their Rockers." The show will follow White and seven senior citizens as they pull pranks on young people across America.
NBC and Universal Media Studios Exec VP for Alternative Programming, Paul Telegdy, said, "Betty White is a comedic genius who escalates hilarity in any situation. Viewers will thoroughly enjoy watching her pull one over on the unsuspecting youth of America," said Paul Telegdy, the VP for alternative programming at NBC.
"People have been telling me that I'm 'off my rocker' for years — now I can prove it," White said in a statement.
Also coming up for White is the third season of her TV Land sitcom "Hot In Cleveland" and the May release of her book "If You Ask Me (And Of Course You Won't)" [pre-order on Amazon and Walmart].
(source: TransWorldNews)