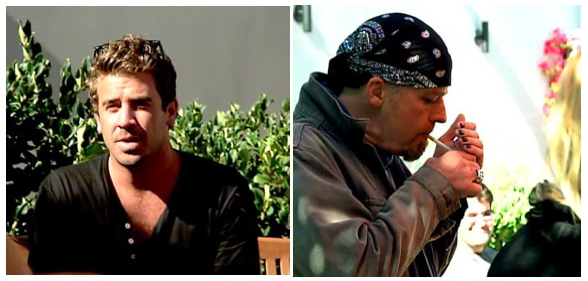 Cast mates Jason Wahler and Leif Garrett from VH1's "Celebrity Rehab with Dr. Drew" that airs its season 4 finale on January 19, 2011 have been talking to the press lately about their experiences on the show.  Jason claims that the show's producers wanted him to drink, and Leif says that the show's producers pressured him to use drugs.  Both said it was all about getting footage.  I love reality television, but when I read stories like this, it saddens me.  Unlike reality shows rooted in partying and mayhem like "Jersey Shore," shows like "Celebrity Rehab" showcase people dealing with serious addiction.  It's irresponsible of the show's producers and VH1 if they're encouraging the cast to use, even in the slightest way.
AOL's TV squad spoke to Jason:
"I think the producers were pissed," Wahler tells TV Squad. "They wanted footage of me partying before we went in and I said, 'No way.'"
Wahler wouldn't agree because he says he was comitted to becoming sober..
"I wanted to show that I was taking my problem seriously," Wahler told TV Squad. "I was revamping myself and showing everyone I'm not drinking."
TV Squad reports Wahler "was arrested six times for alcohol-related offenses in the last few years before checking into the Pasadena Recovery Center with Dr. Drew."
Unlike other contestants, Wahler had already been sober for a short while before filming and wanted to show his commitment to staying that way.
Read the rest of this article on Reality TV Magazine.
Leif spoke to the LA Times:
(The producers) asked to get some footage of me using, and I said, 'I haven't been using'.
"They said, 'We really have to get footage of you using.'
"Anyway, I was easily talked into showing them."
However, Scott Acord, vice president of VH1 Communications, denied Garrett's claims, and said, "The show's producers would never ask anyone to use… PERIOD."
Read the rest of the article on Unreality Shout (link no longer active).
At the same time, we have to consider that both Jason and Leif were not being truthful with the press.  I mean we just spent a week mesmerized by Ted Williams' and his amazing radio voice.  We blindly believed that he was sober until it was revealed otherwise in a series of TV episodes of Dr. Phil's show (see "From Homeless to Hollywood," "Ted's Family Intervention," and "Ted Williams: The Confrontation").  Perhaps the truth is somewhere in between.  I wonder what other cast mates have to say about these allegations and about their own experience.