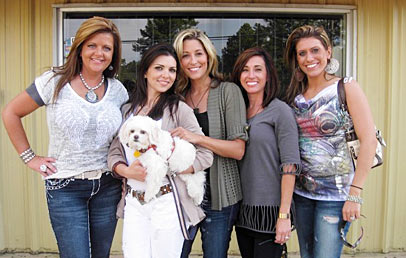 I'm finding that no one is immune to stereotyping when it comes to reality TV- including Bamas.  According to Entertainment Weekly, "Bama Belles" has been picked up for three 1-hour episodes beginning December 5 on TLC.  If the show does well, then we'll be seeing more of these belles.
Watch the clip from Bama Belles "Lawnmowers & Missing Teeth"
See excerpt from the TLC press release below
Meet the gals of Bama Belles:
Amie Pollard – a 39 year old mother, radio personality and real estate developer who is brash and unapologetic. She is everyone's best friend, that is, until you cross her. She and her family are completely self made.
Melissa McLaney – a 35 year old mother, ex beauty queen and business owner who is always striving to be perfect. She gave up her well paid job to set up a family business with her husband, which they are now struggling to keep afloat.
Jana Roberts – a 28 year old preacher's daughter and beautician. She and her husband, a former Met's pitcher, are on an emotional rollercoaster as they go through IVF.
Val Tignini – a 26 year old internet entrepreneur who is a fish out of water in the deep south. After visiting her friend Amie while on a media tour for her website, she decides to move from New York to Dothan.
Dakota Redding – a 24 year old physical therapist and member of the army reserve. She is a tobacco chewing cowgirl who is about to enlist full time in the military.
"Bama Belles is exploring a group of women, a city and a life that we think our viewers will really connect to. TLC is taking a real look at the southern lifestyle of these women in a relatable and fun way," said Nancy Daniels, SVP Production and Development.
Bama Belles is produced for TLC by BBC Worldwide Productions. Executive Producers are Andy Frank, John Hesling and Melody Shafir.