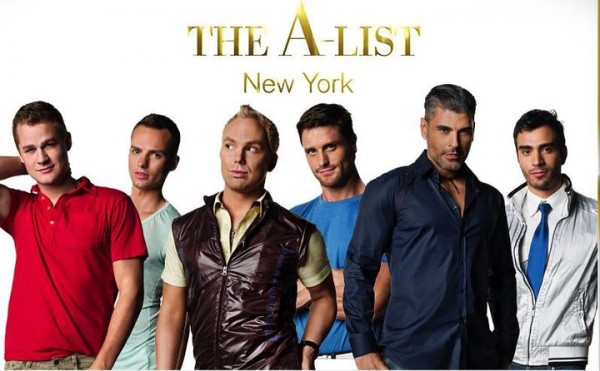 Excerpt from press release:
NEW YORK, Nov. 18, 2010 (PRNewswire) — Wendy Williams, touted as a "breakthrough in daytime" by The New York Times, will pose her signature question, "How you doin'?," to the cast of Logo's "The A-List: New York" as host of the reunion special. Sparks are sure to fly when the talk show host checks in with the cast after an emotionally explosive season asking them all the burning questions viewers are dying to know and Wendy is bold enough to ask. The one hour reunion special premieres on Logo, Monday, December 6 at 10/9C.
"The A-List: New York" still leaves plenty of questions lingering after a highly controversial and turbulent season. Will Reichen and Rodiney continue on their rollercoaster ride and avoid further outside "temptations?" Has Derek found the "Mr. Right" (and "Mr. Rich") he's been looking for? Can anyone get along with impulsive Austin? Viewers will get the answers to these questions and many more as Wendy arrives equipped with her personal arsenal of questions along with viewer submitted inquiries from Facebook and Twitter to round out the show.
'"The A-List: New York' has taken its rightful place among the greatest of jaw-dropping television," said Dave Mace, SVP, Programming and Development, Logo. "We needed a personality strong, quick-witted and daring enough to handle this bunch of 'housewives' and as the talk show host who continues to breathe new life into daytime television, Wendy's absolutely perfect for the job."
"As a huge fan of Logo and 'The A-List: New York,' I am very excited to host this highly anticipated reunion special and don't worry, I will be sure to ask all the burning questions viewers have been dying to know the answers to all season long," said Wendy Williams.
Tune in on Monday, December 6 at 10/9C. As Ryan's indispensable sidekick/assistant TJ would say, it's sure to be "delicious!" [Actually, in context of the first episode, he'd say "not delicious." ~Ifelicious]
"The A-List: New York" features some of New York City's most talked about gay elite including "The Amazing Race" winner actor/model Reichen Lehmkuhl, his Brazilian model boyfriend Rodiney Santiago, renowned celebrity photographer and "RuPaul's Drag Race" and "America's Next Top Model" staple Mike Ruiz, international model Austin Armacost, modeling agent Derek Lloyd Saathoff, and ultra-high-end salon owner Ryan Nickulas. The series follows these A-listers daily lives ranging from Mike Ruiz's celebrity driven photo shoots to Reichen's Off-Broadway debut to Ryan's booming business at his lavish salon. Throughout the series, the men brush shoulders with the celebrities, socialites and renowned personalities that make Manhattan one of the most desirable cities in the world.
"The A-List: New York " is produced by True Entertainment with Steven Weinstock, Glenda Hersh and Marcia Mule serving as Executive Producers. Dave Mace and Christopher Willey serve as Executive Producers for Logo.
Fans are invited to join in the drama and live chat with members of the cast at "LogoTalk!" during each new episode. For more information on " The A-List: New York ," go to LogoTV.com.
Read all of my blog posts about "The A-List: New York," including cast interviews (also posted on YouTube) and screening party photos of the cast by CLICKING HERE.