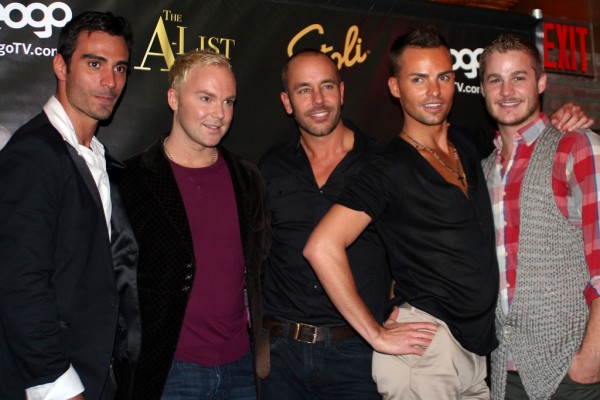 What happens when you take six, hot, social elite gay men in New York City and turn the cameras on?  You get the ingredients for what could be a reality television hit series.  I had the pleasure of attending an exclusive screening, cast meet 'n greet, and party for Logo TV's (one of the Viacom MTV networks with LGBT targeted programming) new reality show, "The A-List: New York" ("The A-List") this past Monday night at Therapy in New York City.  The show was created by the producers of "The Real Housewives of Atlanta" and is being promoted as a show in the same vein, although I think the cast from this show is more homogeneous in its make-up of mostly models, one of which is an aspiring actor as well; a model agent, and a celebrity photographer.  Enter Reichen Lehmkuhl, Rodiney Santiago, Austin Armacost, Derek Lloyd Saathoff, Ryan Nickulas, and Mike Ruiz.  All except Mike were in attendance.  Not to be overlooked, is the equally entertaining and bestie/assistant to Ryan, TJ Kelly.  After meeting the cast both on screen and in person, I am looking forward debut of "The A-List" on Monday, October 4, 2010 at 10pm ET on Logo.  For you early adopters, the first episode is already available for download on iTunes.
In short, the first episode focuses on cast introductions and the gathering of the cast for Reichen's opening night as he stars in the off-Broadway production of "My Big Gay Italian Wedding."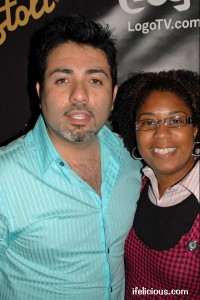 Take a look at the footage I compiled from Monday night at Therapy.  Thanks to Nando of Nandoism.com who graciously agreed to report with me, having never met in person before, in a true display of the power of online social networking.  Also, thanks to his beau and fantastic photographer German Marin of MarinNYC.com who showed his support by often holding two digital SLR cameras and two digital recording cameras in his hand simultaneously.  Forgive me in advance for the bootleg/amateurish nature of this video.  I'm learning as I go with editing and have on my Christmas wish list to get a good video cam set up with lights and a microphone (eh-hem! 😉 ).  It's just part of the growing pains of a broke blogger who's gaining some notoriety.  😎
During the first episode, drama abounds between Reichen, Austin, and Rodiney; however, when interviewing the cast, I got a slightly different perspective that you don't always get on television.  For example, I was impressed by Reichen's passion and involvement as a spokesperson for Servicemembers Legal Defense Network (SLDN) fighting to overturn the military's "don't ask, don't tell" (DADT) policy.  He also has a jewelry line called Flying Naked.  Austin's dimples and midwestern charm was endearing to me.  I love his confidence about his body and his disapproval of the modeling industry's perfect body image requirements.  It'll be interesting to see a male's perspective on this issue since the issue is most often discussed as something unique to women.  Besides being my latest Latin lover, Rodiney had some real struggles restarting his career as a model when his connections were back in Miami.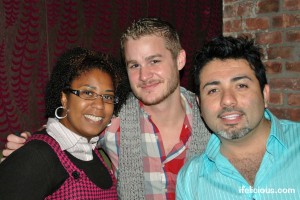 After viewing the first episode, I wasn't drawn to Derek because the only thing I remembered was his addiction to spray tanning.  However, he had one of those magnetic personalities that drew me in as if we'd known each other for years. He turned out to be one of the best interviews of the evening and am super sad that the lighting was the poorest by the time we got over to him.  He spoke like a true ambassador for the show, full of enthusiasm, and had a clear way of communicating what to expect from the show as well as what he walked away with as a result.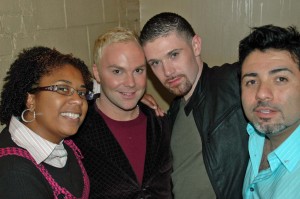 Last, but certainly not least, are besties and co-workers at Darius Salon, the Ryan and TJ.  The chemistry between these two is absolutely electric!  I wasn't surprised to go back through my footage and find that Nando and I spoke with them for 8 1/2 minutes- about twice as long as the others.  There's something about them that make you want to push "play" and be entertained.  It will be fun to watch Ryan and TJ dish on other cast members throughout the season.  We also get a look at Ryan's romantic life.  He's married to Desmond who works in the finance industry.  Talk about opposites attract!  The couple wishes to have a baby, and we can expect to see more on that subject throughout the season.
While Mike was not present, I agree with his statement in the first episode about this show having a greater potential to break him as opposed to make him.  More than the others, I feel he has a long established career and highly regarded as a celebrity photographer.  My initial thought was that he doesn't need this show and risks ending up on the fast track to a revival of VH1's "The Surreal Life" if the show doesn't do well.
For more about the show, also see my blog post with the press release "Logo to premiere Housewives-like reality show 'The A-List: New York' on Oct 4."
There you have it!  I would love to know what you think about my coverage as well as the show when it airs on October 4, 2010.  ~Ifelicious
NewNowNext blog also covered this event. CLICK HERE to read their blog post along with interview footage (also posted below).

Read all of my blog posts about The A-List: New York – CLICK HERE.
Related Links