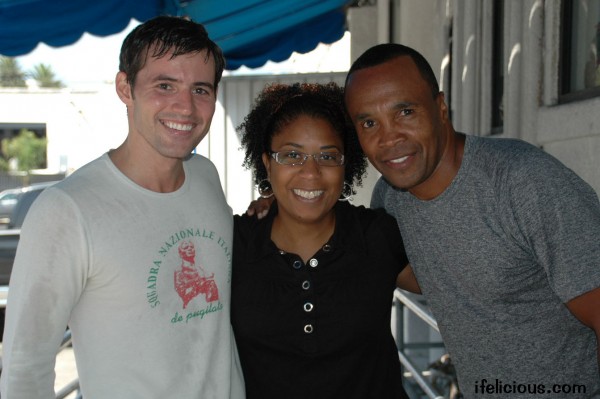 My latest trip to LA was a total knockout!  I called my fellas Bruce Reisman and Kris Black of Four Legged Pictures to see how things were going, and they invited me out to watch Black train with…wait for it…SUGAR RAY LEONARD!!!  Yes, I'm still doing cartwheels of joy in my mind not only because I was surrounded by the two hottest guys in Hollywood, but I get to break the latest news on Four Legged Pictures before you read about it anywhere else!
Growing up, I was undoubtedly Daddy's little girl.  Besides going fishing, my other fond bonding moment with my dad was gathering around ye ole picture tube to watch boxing matches with family and friends.  As I read back through Leonard's amateur and professional career, I could remember seeing nearly every fight- especially in the later half of his career.  An 80s gal to the core, Leonard was definitely one of my childhood heroes making this by far one of my most memorable journalistic moments to date.
I've written about "Five Good Years" and glad to see it gaining momentum in what seems to be a cosmic turn of events.  The original, fact-inspired screenplay by Reisman and Black, tells the story of a West Virginia coal miner forced into the boxing ring to save his ailing mother who is dying from multiple myeloma, a very rare form of cancer. The package began to take shape when boxing legend Leonard got hold of the script by way of another legend, Jackie Kallen, "the first lady of boxing" (portrayed by Meg Ryan in "Against the Ropes"). Leonard reportedly took a special liking to the material, not only for its boxing backdrop and heart-tugging story, but also for the very personal aspect of the story that coincidentally mirrored his own father's struggle with multiple myeloma.
Leonard, who has not acted in movies in over twenty years, will portray an ex-fighter turned promoter (suffering from the early stages of Parkinson's disease), who turns the tough-minded coal miner (played by newcomer and co-writer-producer, Kris Black) into a contender.
In a further show of support and passion for this film, Leonard offered to train Black who will play the lead role of Alex Winston.  I've even heard some whispers about a certain Latin A-lister who has expressed interest and am keeping my fingers crossed that I'll be able to break that news to you officially as well.  😉
Check out my exclusive one-on-one interview with Sugar Ray Leonard outside of Fortune Gym in Hollywood:
About "Five Good Years" and Four Legged Pictures
The $4.5 million movie will be independently financed and is to be directed by Reisman. Reisman, who has been a writer-director-producer for close to forty years, joined Black to create FourTwoFive Films three years ago, with "The House That Jack Built" now in release, and the soon-to-be seen, "Blood Effects" which Black wrote and Reisman produced, completing their slate of low-budget horror movies.
Moving away from the "horror" genre, Black formed Four Legged Pictures on his own, which has plans to produce higher-profile movies in the vein of "Crazy Heart" and "Precious." He plans to follow "Five Good Years" with "Danny Boy," an original he also co-wrote with Reisman, which is a cross between "Dead Man Walking" and "Kiss of the Spider Woman;" where two complete opposites end up sharing the same cell in a high-security prison; one a hardened criminal and the other an episcopal priest, convicted of a "mercy killing."
Behind the camera for "Five Good Years," is cinematographer Bryan Greenberg, whose latest film, the independent "The Perfect Game," received rave notices, especially for Greenberg's beautiful photography.
Joining Greenberg behind-the-scenes is "legendary" editor Scott Conrad, who won an Oscar for editing the Best Picture winner, "Rocky." The perfect editor for this story, Conrad was also drawn to the script, and of course, his experience in "cutting" the most famous boxing-theme movie of all time, made him the perfect choice for "Five Good Years."
Others in line to appear in the film are Taryn Manning, acclaimed actress for her work in "Hustle and Flow" and "8 Mile" with Eminem; along with Justin Shilton ("Little Miss Sunshine").
With casting of the other leading roles in process, plans are for the film to begin production before the end of this year in Detroit, Michigan, which will double for the South and various U.S. cities for the elaborate boxing sequences.
To be distributed by Synergetic, plans are to have the film ready for the Cannes Film Festival next year, with a general theatrical release planned for Fall 2011 to qualify for the Academy Awards.