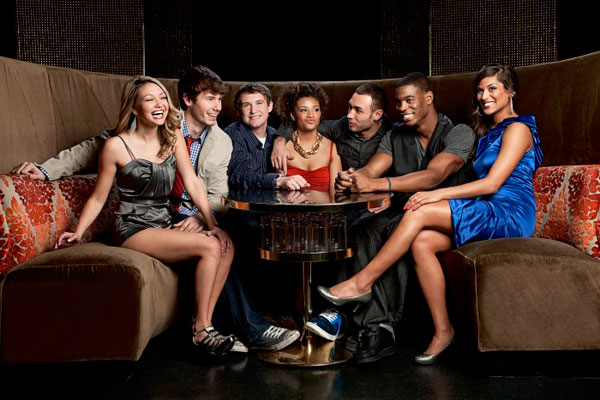 Many true Real World fans will say the last of the best seasons was Real World: Las Vegas (Season 12).  Cast members Alton Williams, Arissa Hill, Irulan, Frank Roessier, Brynn Smith, Steven Hill, and Trishelle Cannatella partied it up at The Palms Casino Resort and delivered quality hook-up sessions, scandals, fights, and more from the very first episode.  Now that the Real World is about to enter its 25th season, MTV has decided to bring the show back to Las Vegas.  The new cast has some gigantic shoes to fill, this time at the Hard Rock Hotel and Casino, and I'll be anxiously awaiting until March 2011 when it will air.
Here's an excerpt from MTV's press release below:
"As 'The Real World' starts production on its 25th season, we are excited to bring the series back to Las Vegas – a city that MTV's viewers love," said creator and Executive Producer Jon Murray. "Hard Rock Hotel & Casino is a fantasy destination and will undoubtedly serve as the eighth roommate and we can't wait to see what Sin City has in store during this monumental season."
"We are very excited to partner with MTV and their hit reality show series 'The Real World' for the 25th season in Las Vegas," said Joseph A. Magliarditi president and chief executive officer of Hard Rock Hotel & Casino. "We recently completed our $750 million expansion which includes the addition of SKYBAR, Reliquary Spa and a luxury suite tower. We look forward to hosting the new cast."
"The Nevada Film Office is very excited to have MTV's 'The Real World' return to Las Vegas. The first time here proved to be excellent exposure for the city and the NFO is always happy to assist any MTV production that visits our state," added Charlie Geocaris, Director of the Nevada Film Office.
"The Real World" launched the modern reality television genre and is the longest-running reality series in history. Past seasons have taken place in New York, Los Angeles, San Francisco, London, Miami, Boston, Seattle, Hawaii, New Orleans, Chicago, Las Vegas, Paris, San Diego, Philadelphia, Austin, Key West, Denver, Sydney, Hollywood, Brooklyn, Cancun, D.C. and New Orleans. The first season, set in New York City, debuted in 1992. Each season, the show brings seven young adults to live together in a new city and the cameras roll 24-7, witnessing as their lives intersect, their ideas are challenged and their passions emerge.
UPDATE 1/7/2011: I'm tardy to the party, but Vevmo has long ago listed the actual cast from the RW25: Vegas. Click HERE for Vevmo's list of names and photos. Also see ask.com for cast names and their biographical info- click HERE.
Too lazy to click on the links? Here's a quick list of the names and home states for the cast:
Dustin Zito from Louisiana
Heather Cooke from Maryland
Heather Marter from New Jersey
Leroy Garrett from Michigan
Michael Adam Royer from Maine
Nany González from New York
Naomi Defensor from New York
Michael Ross from Virginia
Update February 6, 2011: Here's the trailer for the upcoming Vegas season:
Also read, Reality Blurred article "Gay porn star cast on Real World Las Vegas."
Love the Real World? Read all of my Real World blog posts HERE and RW/RR Challenge posts HERE.