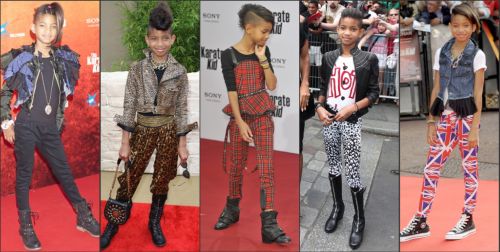 I've been gushing over Diggy Simmons who seems to be doing well carrying the Simmons legacy.  Willow Smith, the mohawk rockin', mega stylin' daughter of Will and Jada Smith, seems to be doing the same.  I just took a moment to listen to her song "Whip My Hair" and was instantly hooked!  The song is definitely a hit!  Ryan Seacrest interviewed Willow and Jay-Z this morning on his radio show where the rumors were confirmed that Willow has been signed to Jay-Z's Roc Nation record label.
Listen to the interview below (it's about 15 mins total).  Willow has that same "it" factor that Justin Bieber has and other stars like Michael Jackson had in their early years.  You can't help but to fall in love with her and the song.
On-Air with Ryan Seacrest on 102.7 KIIS FM – Ryan's Interviews Willow Smith and Jay-Z
People are worried that she's too young.  That could be an issue, but I feel less concerned about that considering that she's coming out of the parenting umbrella of Will and Jada.  I've also read where she's being compared to Rihanna.  Golly gee willakers!  When are people going to get past the "all black people look alike" thing?  Besides the fact that she has a mohawk and that's she's doing kind of a pop thing, there's nothing similar about her voice or sense of style.  I say that honestly, having listened to the song before reading reviews.  It never crossed my mind.  If you listen to "Whip My Hair" it has more of a hip hop vibe to it.
Without further ado, here's the much talked about single, "Whip My Hair." (player did not work so i had to remove it)
I'd love this single to be made into a video!
UPDATE October 19, 2010: Well there is an official video, but you have to go to www.willowsmith.com to view it. Check it out!  Below, is a short clip where Willow tells MTV what "Whip My Hair" means to her.
Update November 2, 2010: Here's Willow performing "Whip My Hair" on "The Ellen DeGeneres Show."
…and here's the official video finally released in a format that can be shared: