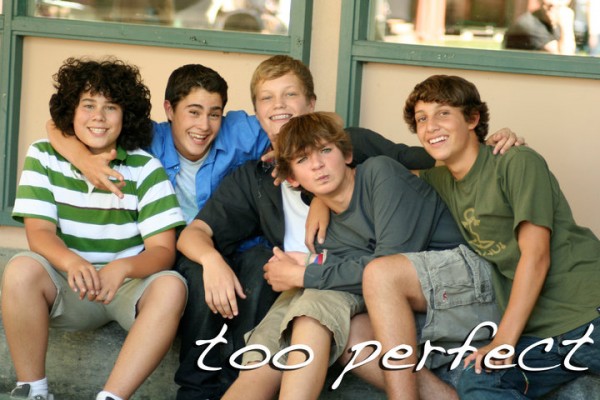 Indie filmmaking trio Julie Rubio, Ramona Maramonte and Jody Wirt have started production on their latest film project "Too Perfect."  Written, directed, and co-produced by Julie Rubio, this film is coming of age story following five middle school boys who are best buddies and excited about the end of the school year.  Yet, unbeknownst to them, things are about to change big time in their lives.
Check out the official trailer for "Too Perfect."
Sponsors needed via IndieGoGo.com by Nov 15, 2010!
Support indie filmmakers. Support good wholesome family films. Support women filmmakers. Go to http://www.indiegogo.com/too-perfect?i=pite and become a sponsor today! Every dollar counts! Plus, you will get great gifts straight from the filmmakers as their personal way of saying thank you.
Please Note: All donations must be received by November 15, 2010.

View clip below from the producers of "Too Perfect":

* * *
Synopsis
When did you lose your innocence? Elijah Stevens, a charming, good-looking 14-year-old boy, is just about to lose his. He has no idea that his parents are about to tell him that they are getting a divorce. His four best buddies are just about to learn of their life-changing issues as well. But first, they will all go "Downtown" for one last wonderful day of fun and innocence. By the end of the day, all of their lives will have changed.

"Too Perfect" explores the power and depth of the moment before a big change happens…the kind of change that forever marks your heart and soul, that can gently nudge you straight into adulthood and the spiritual journey that a young boy goes on as he becomes a grown-up. Today is a day that is just "too perfect" to be true.
It's a family affair for the some of the cast of "Too Perfect." Writer/director/co-producer Julie Rubio's son Elijah Stavena is cast in the lead role "Elijah."  Also, co-producer Ramona Maramonte's daughters Tyler Maramonte and Tonii Maramonte are cast in the roles of "Tyler" and "Beautiful Girl," respectively.
In addition to Elijah, the other boys playing leading roles are Jake Linares ("Jake"), Antonio Salmeron ("Antonio"), Matteo Notini ("Matteo"), and Sam Lant ("Skylar").  The girls cast in supporting roles include Devon McDonald ("Parker"), Tyler Maramonte ("Tyler"), Christin Wojcik ("Bug"), Tessa Hanson ("Ashley"), Mia Hartnett ("Chloe"), and Lindsey Watters ("Makayla").
* * *
Keep up with the entire cast, behind the scenes footage, and more by joining the Too Perfect Facebook Fan Page, subscribing to the Too Perfect Youtube channel, and following Too Perfect's blog.
Also read featured blog post, "Indie Spotlight: Filmmaker Ramona Maramonte."
Stay tuned for more updates on "Too Perfect."