Deanna Collins and I were first acquainted via Twitter about a year ago.  We bonded quickly, bantering about pop culture and random girly things.  Soon we learned that we were both kindred spirits navigating our way in the entertainment industry and have become mutual support systems, idea generators, networking contacts, and good friends.
D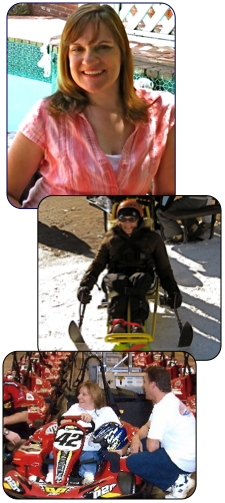 eanna, who lives in Orange County, is currently developing a television show that she directs, produces, and hosts entitled "Ultimate Access with Deanna Collins."  The show follows a lifestyle magazine format that showcases people, like herself, living life with disabilities to their fullest.  In a media world saturated with reality TV, how much more real, educational, informative, and inspiring can you get than this?  As a host and sometimes participant, Deanna taken her one woman in a wheelchair show out to cover the annual Abilities Expo, learning how to surf, and even traveled out to British Columbia to witness and interview the world's top athletes in the 2010 Winter Paralympics.   As someone living with a disability or not, you'll find her show captivating as you are drawn into her world with a "can do" and "what's next?" attitude as opposed to charitable and medical aspects that we may be more likely to see on television, or even worse, the blind eye that has been turned on a viable segment of our population that loves, laughs, travels, shops, and is active just like all of us.
"Ultimate Access" has not been picked up by a network yet (hint-hint!), but she has been continuing forward with her dream constantly adding new content and sharing much of it through her website www.ultimateaccessmedia.com.  Most recently, she's submitted an audition for the Oprah Winfrey Network (OWN) that is currently conducting a nationwide search for talented individuals, such as Deanna, to host their own show.  Please go to her audition site, vote, and show her some love with a comment!
OWN audition video and voting site for Ultimate Access with Deanna Collins

http://myown.oprah.com/audition/index.html?request=video_details&response_id=6163&promo_id=1
Want more Deanna and Ultimate Access?