Twitter: twitter.com/ruthiealcaide
Facebook: Ruthie Alcaide
When you talk about classic Real Worlders, Ruthie Alcaide is one of the people that come to mind.  Same thing for RW/RR Challenges.  Ruthie was my fave before Ev (Evelyn) came along as one of the best girl competitors in the challenges.  Robert Elkin Portillo posted his interview with Ruthie on the Fresh Meat II Facebook fan page and I wanted to repost it here.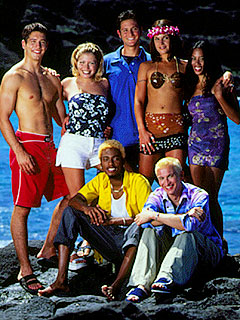 See below…
Robert: When you see yourself on the Real World Haiwii do you think about how've you changed.
Ruthie: It's been over 10 years, obviously a lot has changed. We're human beings. Although when it comes to a television show, it's like you're frozen in time and people ask the same questions from 10 years ago as if you haven't aged. Looks wise I still look the same which I'm grateful for hahaha, but emotionally and intellectually I've come so far. I used to be so naive and I've become much wiser.
Robert: What was your favorite Challenge?
Ruthie: Hands down, Battle of the Sexes I. This is because back then people had integrity and it was based on individual score, which I excelled at.
Robert: Who did you make friends with on the Challenge?
Ruthie: I have a lot of acquaintances, but "friends" on the challenge is putting it lightly.
Robert: What was the Whole Coral-Sophia-Arissa situation involving your elimination on Battle of The Sexes 2?
Ruthie: Coral is very manipulative and smart when it comes to covering her butt, and she used a non-athletic but highly vulnerable Arissa to help her make it to the end.
Robert: Any regrets?
Ruthie: Yeah, I need to pay more attention to the backstabbers.
Robert: What is your take on the fight between Tonya and Veronica on the recent challenge the Ruins?
Ruthie: I think that Tonya had a short fuse and Veronica lit it.
Robert: Do you still keep in contact with any of your Real World Hawaii cast mates?
Ruthie: Just Colin occasionally, he's out of the country.
Robert: Any challenges you missed out on?
Ruthie: Every time they do a bungee mission I think, I wanna be there!
Robert: When you look at the old Ruthie from Real World Hawaii what comes to mind, do you reflect on those years?
Ruthie: I think of how naive I was, but it was a refreshing type, I didn't care what people thought and I was just me.
Robert: Are you and Sophia still friends?
Ruthie: Sophia is one of my best friends to this day, I met her before a challenge.
Robert: Your least favorite challenge?
Ruthie: Battle of the Sexes II. It was on a boring ranch in New Mexico. I was glad to leave.
Robert: Do you think Beth is a bad as people say she is?
Ruthie: No, I think she just likes attention.
Robert: Do you keep in contact with Ellen from RR The Quest and Lori from Real World Back to New York?
Ruthie: I have no idea where Ellen is after she got married. And Lori is on my Facebook.
Robert: Will we be seeing you on any future challenges?
Ruthie: I get invited once every couple of years, it's because I don't fight with people.  😉
Read all of my Real World blog posts by CLICKING HERE.
Read all of my RW/RR Challenge blog posts by CLICKING HERE.