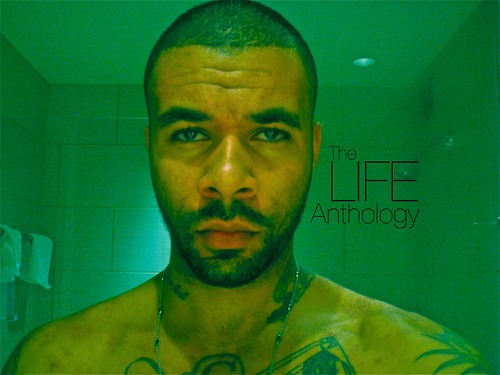 Name: Chris Classic
Hometown: Hempstead, New York
Album: The Life Anthology
Musical Influence: Hip-hop, rock and soul
Interesting Fact: Chris began writing poetry influenced by Shel Silverstein at the age of 8.
TV and film music artist, producer and song writer, Chris Classic, has been in the industry for 10 years creating music for some of the most noted movies and commercials to date, including Alvin and the Chipmunks, in which he and his team took home an American Music Award for Best Soundtrack in 2008. Other films include "Transformers", "Fantastic Four", "Sex & The City", "Coach Carter" an upcoming moving, "Lottery Ticket" and most recently, "Just Wright"; he has four songs on the movie starring Queen Latifah and Common, now in theaters. Aside from TV & Film music, Chris has released several mix-tapes, as well as featuring on other talents musical creations.
Putting his heart and soul into a new project, Chris Classic released The Life Anthology, on Tuesday, May 18:
Life is an amazing journey on which every traveler must find his own path. The Life Anthology, represents all of the emotions, issues, high & lows any one person can go thru in one day and sets them to a beat. Today, Hip Hop has been omitted from contention when it comes to defining the average American life. This travesty has unfortunately alienated many rap/ hip hop fans who seek more than just doing a catchy dance or repeating a pathetically slurred chorus. In business, it has also distanced popular brands from really reaching the core of the hip hop community. This demands change.
The project, an EP and short film directed by Adam Saewitz, co-directed and written by Michael Mancini, is a personal project for the artist who states,"It's provided a living for me that I feel blessed by. What better way to stay true to my life than to make short films about my passion and supply the music?" The plan is to add to The Life Anthology every quarter with a new short film & EP.( I'm sure with the right help I could actually do this monthly…) Ultimately it is my aim to spearhead a movement in which the amazing parallel between Hip Hop & American culture can be identified & celebrated. I'm not trying to promote some corny "unity" idea. I just want us to live BETTER as individuals. We all breathe. We all bleed. We all have a beat. We live. Find your life. The Life Anthology."
The Life Anthology- (Volume 1) from Chris Classic on Vimeo.
The EP is available for free download right now at http://www.chrisclassic.bandcamp.com. To learn more about me http://www.chris-classic.com.
Download Shuttberbug (Remix) by Big Boi f/ Chris Classic
Download "Sheet Music Valentine's Day 2010" by Chris Classic

Related Links
(source: Chris Classic)