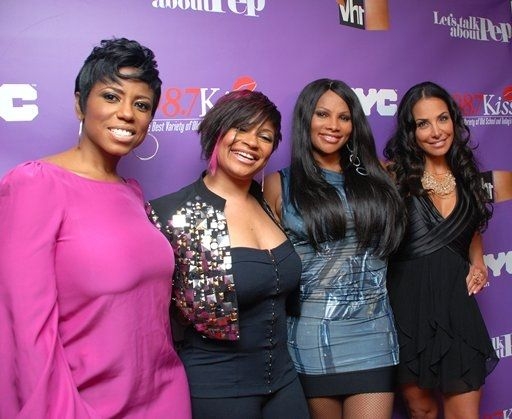 Last night, March 1, 2010, at Comix in NYC, the ladies from Let's Talk About Pep, their "gentlemen callers," friends, and even Oprah's bff Gayle King gathered together for a private final screening of their show that airs on VH1.  I was not able to personally make it out to the event, but I wanted to share some footage with you anyway.  If only NYC was a short drive away… *sigh*
Here are few posts that have showed up so far about the event.  They're all mostly pictures (you know Ifelicious would also have video and commentary on the event itself, but hey, that's just me).  I'm glad to see that Tom was there.  I would've loved to talk to him.
Stay tuned for my own special blog post with my thoughts about the show coming very soon!
Read my review of the show ("Ifelicious Review: Let's Talk About Pep, season 1") and fun picture summarizing the cast and their men ("Ifelicious Review: Let's Talk About Pep, season 1 (man diagram)").
In the meantime, check these out from last night's event:

VIDEO Just added!!!

(March 2, 2010 at 10:05 PM ET)
Video footage that Kittie posted on Twitter (twitter.com/kittiemeeyowww).  By the way, here are the other twitter IDs I know- twitter.com/JacqueReid, twitter.com/DaRealPepa, twitter.com/joumanakidd, twitter.com/markuann).
On the red carpet (needs to be edited by whoever posted, but at least you can see what it was like). UPDATE March 4, 2010 at 12:11 PM ET: According to Kittie who contacted me via twitter, the video is indeed edited.  Oh well, you be the judge.  😆
In the video below, the girls take the stage inside Comix and talk to their guests.  It really looked like they had a good time
About the show (from Kat Walk Media, Inc.)
"Let's Talk About Pep" is a real-lifecomedy following Sandra "Pep" Denton of Salt-n-Pepa fame as she emerges from an over 4-year romantic and sexual sabbatical to search for love again.
After being burned by bad boys one too many times, Pep decided to get out of the game for a while. Now Pep is joining forces with three of her closest girlfriends–all single and searching, too–to try the dating scene again. Together the four friends will laugh, cry, and dish lots of dirt as they all try to find true love. Pep's partners in crime are: TV personality Jacque Reid, Joumana Kidd, former model, sports journalist and ex-wife of basketball superstar Jason Kidd; and the wild child of the bunch, voiceover artist/radio personality Kali "Kittie" Troy.
"Let's TalkAbout Pep" has gained the attention of over 2 million viewers weekly andhas been featured in Essence, NY DailyNews, Associated Press TV, HoneyMag.com, The Gayle King Show on Oprah Radio, Life& Style magazine, Good Day New York on Fox 5, WNBC's "TalkStoop", The Wendy Williams Show, LX TV, and the list goes on.
Hit me up on YouTube to see interviews from their launch party (youtube.com/ifelicious). RATE THEM! SUBSCRIBE!
Catch everything I've posted on the show by clicking HERE.
Here's an interview the cast did on Shade 45 early in January 2010 that I thought was pretty fun to watch.
There was no announcement or anything I could find online at this time regarding a season 2, so we'll just have to wait and see.