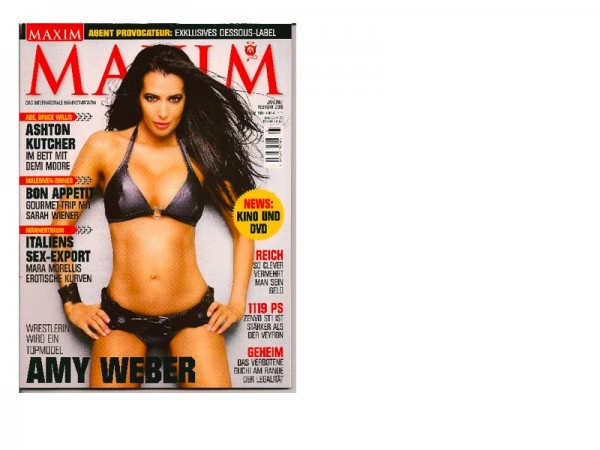 Standing at only 5 ft 7 in, Amy Weber does not meet the typical model height requirements, yet the bread and butter of her career has been modeling.  Her tone and sexy physique has landed her photo opps in Maxim, Playboy, being named by AskMen.com as a Top 10 Fitness Model, among many more.  She also became widely known as a WWE Smackdown! heel diva, one of the bad girls, whose nemesis was Joy Giovani.  Another claim to fame was an acting role, her true passion, as "Porcelain Bidet" on the hit series "Son of the Beach" back in 2002.  The show was a spoof on "Baywatch."  I suggest checking her official website, www.amyweber.net, and her profile on IMDB for more details on her extensive list of accomplishments.
I recently featured Amy Weber on my Examiner.com Women's Issues Column that gave some perspective to the inner workings of a woman whose life in the press has been more focused on her external beauty.  Please refer to the article, "Candid interview with celebrity and midwest native Amy Weber" where she shares her abusive past, battling cancer, difficulties conceiving children, her upcoming reality TV show to air on NBC called "Deeds," and much more.
There were a few things from our interview, however, that I was unable to share due to article length constraints that I still thought were amazing moments.  I've included them below.
Defining moment: Deciding to pursue her passion
Amy: It was like a movie moment. I was sitting in…one of my [college] classes…I just remember it was so boring, and school was so boring. I always got done and thought, 'Ugh! Is this it?' I just remember, like it was a Charlie Brown moment. Where the professor was like, 'Wa-wa-wa-wa.' It seemed like I couldn't even hear what they were saying and I just thought. I literally stood up in my seat and said out loud, I don't know what came over me, 'I don't want to be here! I don't know why I'm here! I don't want to do this. This isn't for me.' Everyone just stopped and they were looking at me like literally I had just lost it and I was like, 'Good luck to everyone,' and I just walked out of school…I took on 3 jobs. I saved up several thousands of dollars, and then I just got on the 10 freeway. I didn't know anyone. I didn't know know where I was going to stay, what I was going to do, but I knew I just had to go.
First book: An Insiders Guide to Making it in Show Business
Amy: learned pretty quickly how things run out here and I'm sure I made some mistakes along the way which is why I just wrote a book called 'The Insiders Guide to Making it in Show Business' it's a guide to help people know things like how much head shots should cost and how to get into acting class and what's good, what's bad, and pitfalls and stuff like that.
Workout Program
Ifelicious: What's your workout program or training of choice?
Amy: Right now, after the babies, my training of choice is pilates plus, and it's kind of like pilates on steroids. Pilates but you don't stop. It's a cardio driven type pilates class, and it's also a little Beekram yoga-ish because they'll turn the heat up a little bit, too. It's really tough, but it's really working to lengthen and strengthen your core and lean out your muscles. I mean I still do a lot of cardio, and I try to watch my diet but after a big shoot I'll always reward myself with something really bad like Taco Bell. I had this huge shoot on Monday with…one of the top 10 photographers in the world, and we shot some sexy stuff but I also shot along with a bunch of other celebrities to help raise money for endangered orangutans in Rwanda. Also, this orphanage, they have 50 kids and they learn to live with the orangutans. They also teach these kids how to survive on their own. It's such a great charity. So after that I got tacos and cupcakes.
Ifelicious: Good, so you don't have to be perfect with your eating and exercise all the time?
Amy: No.
Mockumentary "Becoming Pony Boi"
Amy: It's kind of like the 'Spinal Tap' for our generation. It's this little Jewish guy who decides he wants to be a rapper so he goes through the whole transformation, bulking up and I think he's still this little Jewish guy that's in New York trying to write a movie and I'm backing away from him and he comes in like 'Yo yo!' and I'm like 'Yo what?' It's a pretty funny movie.
Amy has landed several meaty roles in a series of B movies and hopes to advance her career to more feature films in the upcoming years.
Plastic Surgery
Ifelicious: Have you had any plastic surgery?
Amy: Yes, I've had breast augmentation. That's so funny, nobody has ever asked me that.
Ifelicious: Really? I was just thinking as a model specifically and just being in the whole entertainment industry it seems like more and more of a discussion. Clearly, Heidi Montag being a current discussion with her undergoing 9 or 10 procedures recently.
Amy: I was really young when I got it done, and I think it really stems from that whole thing that I had such bad self esteem. I mean, my own father used to make fun of me because I had really small boobs. You know, not horrible, but I had tiny B [cup] boobs and he used to be so crass about it when I was like 13 and 14…I turned 18 and I just did it. I don't necessarily regret it because it's part of me now. It's who I am, but I don't know if an 18 year old really has the capability to be making those kinds of decisions, and you know it's like when kids go in to get like nose jobs and their noses haven't completely formed yet…Even after I moved to LA, I still grew almost 2 inches. My body wasn't completely done developing and then I was a little bit of a late bloomer so who know what would have happened, but you know it is what it is. It's a part of me and I embrace it.
Bucket List
Ifelicious: Do you have a bucket list?
Amy: I do. I have it right here. I've crossed out most of it…Start a clothing line…Promote a film at Cannes…Start juicing twice a week. Ya, that never works out.
Launching Music Career
Amy already has 3 singles out ("Girls Night Out," "Wrapped Around," and "Ghost") that you can download on Amazon, iTunes, CDBaby, and Rhapsody.  During our interview, she also gave some more details around her budding music career.
Ifelicious: I see music is in your life now, too, among all of the other things you are pursuing.
Amy: It is. I'm so excited. I'm recording with the Club Jumpers. They're Grammy winning remixers. They've worked with everyone from Lil Wayne to Rihanna to Mariah [Carey]. They're just an awesome group of guys so I remaking a huge dance hit from the UK called 'Something Kind of Ooh' so that will complete my CD.
Again for more with Amy Weber go to my Examiner.com article "Candid interview with celebrity and midwest native Amy Weber."
I also found Amy's personal blog, that you can access from her official website www.amyweber.net, to be very interesting.  Check it out by go to blog.amyweber.net.

Related Links
Amy Weber 2009 Maxim Calendar Photo Shoot