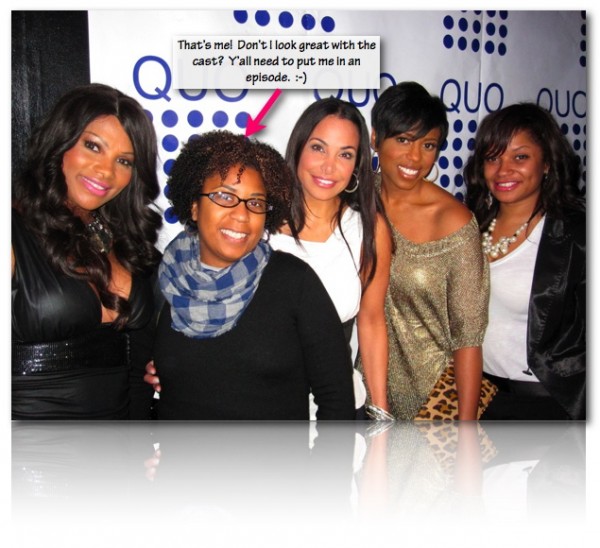 Last night, January 10, 2010, I joined the cast, producers, and friends of "Let's Talk About Pep" now airing Monday nights at 10:30 PM EST/PST on VH1 at their launch party hosted by the fabulous Patty Laurent of Patty Laurent Signature and Gavin Wray (husband of Cheryl "Salt" Wray) of GavFam Music.  DJs Get Live and Goldfinger kept the club rockin all night.  The invitation only party was held at the chic Quo nightclub in New York City.
Celebrities in attendance included the one and only Sandra "Pepa" Denton who stars on the show along with her girlfriends Joumana Kidd, Kali "Kittie" Troy, and Jacque Reid.  Long time friend and one of the executive producers of the show Cheryl "Salt" Wray, Cheryl's sister Kimberly James (also an executive producer), rapper Ja Rule, "Your toes taste like meatloaf" toe sucking Markuann Smith, celebrity trainer and co-star Sidney Wilson, celebrity stylist Wouri Vice (stylist for Alicia Keys), R&B artist Lola Davis, and many others for this star studded event.
If you haven't watched "Let's Talk About Pep" on VH1, you need to get on board!  Only 2 episodes have aired to date, and you can watch them online HERE.  It's a bit of "Sex and the City" and "Waiting to Exhale" wrapped into one with a splash of its own flavor that only Pep and her friends could bring to the screen.
Here are some photos from the event taken by yours truly, the one woman road show (camera in one hand, video in the other) Ifelicious!  😎
* * * *
This slideshow requires JavaScript.
* * * *
Cast member Kittie shows me some love…
Ja Rule shows me some love…
Pep herself gives Ifelicious some love…
Stay tuned for on camera interviews and my signature behind the scenes post with Ifelicious Thoughts!!!

Related Links
Links related to the launch party