I haven't blogged about "Glee" yet, but I absolutely love that show.  While life has landed me in Ohio, also known as the gateway to the midwest, I am tickled that Ohio seems to be referenced  over and over as "Average America."  Or, maybe it's because Ohio and the rest of the midwest is brimming with talent that traces their roots to the midwest. 🙄  Actually, that is the case for the hit television show "Glee."  Set at William H. McKinley High School in Lima, Ohio, the show's creator Ian Brennan drew inspiration from his own Prospect High School in Mt. Prospect, Illinois. (read more in Chicago Tribune article/interview "'Glee Club' TV series creator uses Mt. Prospect High School for inspiration")
Sadly, the episode airing tonight will mark a mid-season hiatus set by FOX.  We will have to bite our fingernails and support each other for 4 whole months before it's scheduled to resume in April 2010.  I don't know why networks do this to shows, especially when they have such great momentum.  From what I've read, it seems like the going theory is so that the hit show is not affected by FOX's cash cow "American Idol."  Playblog (blog for Playbill.com) mentioned that "Glee" will return on Tuesdays instead of Wednesdays beginning April 13, 2010.  The timing puts the show back on the air after "American Idol: Season 9" completes (wow, can you believe it's been 9 seasons?). While I look forward to the fun we'll have comparing "Glee" cast members to "American Idol" show contestants, I could totally use a double dose of music in my week.  Besides, "American Idol" is losing its appeal to me.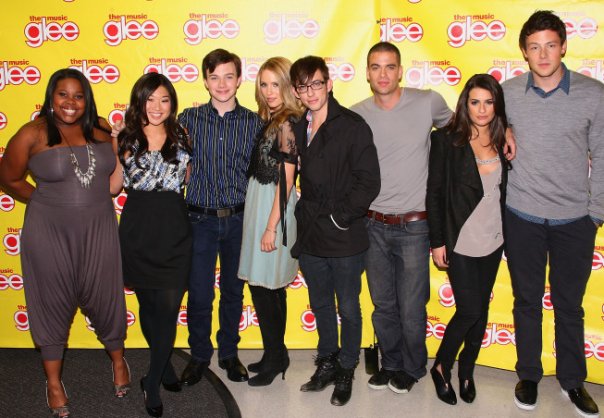 There are plenty of ways that the "Glee" legacy will live on until it resumes in April 2010.  This is a perfect time to ask Santa for soundtracks from "Glee."  The first one, Glee: The Music, Vol. 1, was released on November 1, 2009 and features tunes from the early part of Season 1.  The second soundtrack was just released yesterday (December 8, 2009).  Entitled "Glee: The Music, Vol.2" it features songs from the remaining part of Season 1.
Strictly for the Gleeks…
Ya, I'm cool.  I totally learned that "Glee" fans are called "Gleeks."  😎 Below is a collection of video and links for you to get your fix.  I like that you can follow specific characters via social media sites as well as the show in general.
Fall finale preview video…


Behind the Scenes of "Gold Digger"!

GLEE | MySpace Video
Check out the show's official website
Follow the show and cast on Twitter
Fan the show and cast on Facebook
Follow the show and cast on Myspace
More news…