FULL LIST OF WINNERS AT THE BOTTOM OF THIS PRESS RELEASE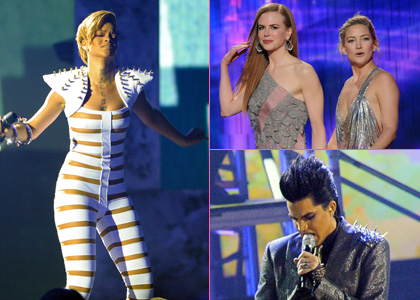 Winners include: Artist of the Year — Taylor Swift and T-Mobile 'Breakthrough Artist Award' — Gloriana
LOS ANGELES, Nov. 23 /PRNewswire/ — Winners of the 37th annual American Music Awards (AMA's) were announced this evening to a sold out crowd, from the Nokia Theatre/LA Live. The show aired live on ABC at 8:00pm ET/ 7:00pm CT. Prior to the awards ceremony, there was a two-hour online red carpet show that streamed live on ABC.com, Facebook.com/celebs, Ustream.tv, and mycokerewards.com along with numerous other sites. The AMA Red Carpet Pre-Show set a new Ustream record for the largest red carpet webcast and farthest-reaching event on the leading internet broadcasting platform. The webcast achieved more than 3 million total views (Total viewers: 3.3 million / Total uniques: 2.1 million) during the 2 hour live event. For highlights and more information, visit ustream.tv/ASNLive.
Produced by Dick Clark Productions, The 2009 AMA's were produced by Larry Klein and executive produced by Orly Adelson, president of Dick Clark Productions.
Highlights of the event included: Stellar live performances from Lady Gaga, Rihanna, Jennifer Lopez and an 8 minute opening medley by Janet Jackson featuring "Control," "What Have You Done for Me Lately," "Make Me," "Together Again" and more. The night also marked Whitney Houston's return to stage singing "I Didn't Know My Own Strength," Eminem and 50 Cent performing "Crack a Bottle" and the finale with Adam Lambert's first live television show since "American Idol."
Winners of the 37th Annual American Music Awards included Taylor Swift taking home 5 awards including Artist of the Year, Michael Jackson honored with 4 awards including Favorite Male Artist (Pop/Rock), Jay-Z sweeping the Rap/Hip Hop category with 2 awards, Green Day winning Favorite Artist (Alternative Rock Music) and more. A complete list of winners is attached.
Music fans were able to vote for the T-Mobile "Breakthrough Artist" Award and selected Gloriana as this year's "Breakthrough Artist."
Winners were determined by online voting at amavote.com, the official voting location for the award show. Additional information about the show and performers can be found on ama.abc.com. Artists were honored in the categories of Pop/Rock, Country, Rap/Hip-Hop, Soul/R&B, Alternative, Adult Contemporary, Latin and Contemporary Inspirational.
About the Voting
Initial nominees were selected by using ballots containing names compiled from data supplied by the music industry trade publication, Radio & Records and Nielsen Soundscan, which tracks retail music sales. The ballots were then sent to a national sampling of more than 15,000 people based among other things on what type of music they listen to, what they buy and how many albums they purchase per year. The top three vote getters in each category were determined to be the nominees for this year's American Music Awards (except in the Artist of the Year and T-Mobile Breakthrough categories which each have five Nominees). Winners were determined by online voting at ama.abc.com as well as at amavote.com (votes will be collected from October 14 to November 7)
About Dick Clark Productions, Inc.
Founded in 1957, Dick Clark Productions, Inc. ("DCP") is a leading independent producer of television programming. dcp produces perennial hits such as Dick Clark's New Year's Rockin' Eve with Ryan Seacrest, the American Music Awards, the Golden Globe Awards and the Academy of Country Music Awards. dcp also produces popular weekly television programming, including So You Think You Can Dance, and owns and maintains one of the world's most unique and extensive entertainment libraries, which includes more than 30 years of American Bandstand footage. For additional information about DCP, please visit www.dickclarkproductions.com.
About the American Music Awards
In 1973 Dick Clark created the American Music Awards to pay tribute to popular musicians from various genres of music and to put audiences in touch with the latest phenomena in American music. Since its founding, the AMAs have honored and showcased the talents of some of the biggest names in the music industry. For press credential requests, please go to www.dickclarkproductions.com.
WINNERS FOR THE 2009 AMERICAN MUSIC AWARDS
POP or ROCK MUSIC
Favorite Male Artist
Michael Jackson
Favorite Female Artist
Taylor Swift
Favorite Band, Duo or Group
Black Eyed Peas
Favorite Album
Michael Jackson / Number Ones
COUNTRY MUSIC
Favorite Male Artist
Keith Urban
Favorite Female Artist
Taylor Swift
Favorite Band, Duo or Group
Rascal Flatts
Favorite Album
Taylor Swift / Fearless
RAP/HIP-HOP MUSIC
Favorite Male Artist
Jay-Z
Favorite Album
Jay-Z / Blueprint 3
SOUL/RHYTHM & BLUES MUSIC
Favorite Male Artist
Michael Jackson
Favorite Female Artist
Beyonce
Favorite Band, Duo or Group
Black Eyed Peas
Favorite Album
Michael Jackson/Number Ones
SOUNDTRACKS
Favorite Album
Twilight Soundtrack
ALTERNATIVE ROCK MUSIC
Favorite Artist
Green Day
ADULT CONTEMPORARY MUSIC
Favorite Artist
Taylor Swift
LATIN MUSIC
Favorite Artist
Aventura
CONTEMPORARY INSPIRATIONAL
Favorite Artist
Mary Mary
ARTIST OF THE YEAR
TAYLOR SWIFT – Country
T-MOBILE BREAKTHROUGH ARTIST
Country Breakthrough Artist – Gloriana
INTERNATIONAL ARTIST OF THE YEAR
Whitney Houston
Source: Dick Clark Productions
Related Links