DING! DING! DING! DING! …BONUS TIME!!!
I'm going back through photos and video tonight that I took at Raekwon's album release party back on September 8, 2009 in NYC. Some photos were posted the original night but then taken down, and some were never seen before. Rather than leave them unused, I thought I'd create this journal style post and share them with you.
Standing room only was an understatement on the red carpet (that I called the "red bath mat" that night because it was such a small area), but I had my little tiny digital camera with me that I managed to hold in one hand and my mic in the other just so I could  snap a few shots on the red carpet  if I got the opportunity.  They had the press packed into this tiny area, maybe 1/8 of a NYC city block.  You literally could not move at times, and I was just praying for no foolishness to jump off.
I ran into a few familiar faces who were probably a little surprised to see me in town but know how I roll.  My "camera man" slash "videographer" for the night was decided a couple of days before.  Thanks to frequent commenter "adub" who offered her fiance "SolidMastery" who was willing to jump on Bolt Bus from Boston that Tuesday.  He was a great work partner because he is a hip hop head in the truest sense so I could rely on him to help point out folks or give me little pointers when needed.
This was a Diddy party which meant moving up in the world and also moving up in my own game, and I was excited to meet some of the guests I read about in the press release.  I really wanted to at least see Diddy, if not meet him and shake his hand.  I don't want to feed his Kanye West sized ego, but I respect all that he has accomplished as an entrepreneur.  In short, no such luck.  He slipped in the building without being noticed and he must've left right after the concert.
If there was a script for how the night was supposed to go, it might well have been tossed in the trash because NOTHING went as planned.  My work partner for the night, event photographer Devan Carter, had arranged for me to be on "the list" so I could have prime access on the red carpet as well as get inside.  I already knew that no cameras or video were allowed inside thanks to Devan who let me know ahead of time that there were a select few videographers allowed in the event.  I just expected like every other red carpet I've done to be able to enjoy the festivities a bit after the red carpet closed down.  That's where this extra psycho PR chick comes into play.
She was a B* for real!  You know people who yell so much that everyone tunes them out?  That was her.  Apparently, she was last minute additional PR added for the night to help things go "smoothly," but she was a nightmare that I know not only pissed off the little press outlets, but the big ones and celebs, too.  I know for certain that either the guy from Wire Image or Getty Images was kicked off the red carpet and went home early.  There were also celebs that couldn't even get to the red carpet because it was so crowded and then had issues trying to walk the red carpet for dumb reasons like some bouncer type guy saying "you can't" or being ushered away by psycho PR chick.  To add to the mayhem there were wall to wall police cars and police presence along with yellow tape around the outside perimeter of where they wanted to keep us herded.  Gotta love that.  I feel like when cops overdo it with their presence at, let's face it, hip hop and other black events, they just make things worse.  Too many chiefs, not enough indians just provoke what they were hoping to avoid.  Luckily, nothing crazy went down…at least as far as I know or saw.
It's hard for me not to jump back into logistics engineer mode in these moments because pyscho PR chick, nice PR guy, the bouncers, cops, etc. really needed professional help to manage the crowd flow.  They just made it hard on themselves and it looked like no one effectively took charge.  Whatever…  Psycho PR chick also kept complaining that she would not have approved these "no name" press outlets if it were solely up to her and kept trying to make us leave while putting the big time folks like MTV and The Source front and center of the little space we had.  I just knew I went through too much to get to this day coming out to NYC from Columbus, Ohio and bringing down a family friend from Boston and so much else that I won't even get into, that she'd have to physically carry me to my car, unlock it, start it, put it in drive, and wrap my fingers around the steering wheel for me to leave.  Oddly enough 😉 , I kept quiet, but remember, I'm in NYC and folks were pissed at this lady and shouted all kinds of expletives that I have on some of my tossed video footage and maybe audible in some of the footage I posted, too.  It's so funny when I'm in NYC, I seem like a sheep among wolves and when I'm back in Ohio, it's the reverse.
Red carpet guests took FOREVER to start arriving, but eventually they did.  The only good thing that came out of that was it gave time for Devan to arrive (was running late then got lost) and not really miss much and also SolidMastery and I managed to find a relatively decent spot in the press mob thanks to folks who gave up and left (before the end, we were right up against the barricade to the left of the carpet but to the right of the door to get into Santos).  Even I was ready to leave and call it a night at one point, but glad that SolidMastery kept me steadfast.  Ok, if I hadn't made this point painfully clear yet, this was honestly the worst red carpet and longest running (as in time) red carpet event that I've ever covered, but I'm fairly new so this is just another data point at how bad it could be.
"She's with me" and "She's on the list" (referring to me) was not working that night so the whole partnership worked out with Devan the photographer did not work…technically.  The blessing I had from it, is that he really came through for me by nudging celebs my way if they were being ushered otherwise.  I would not have spoken to Raekwon if it were not for Devan.  It was a little smiley moment to see folks get a little jealous that I knew him and even started calling his name hoping to be his friend and get good shots, and he was not having it.  "Yo Devan!" LOL.  That doesn't normally happen to me, but I have been blessed at the right times in this crazy journey into journalism.
When the red carpet finally closed (basically not much long after Raekwon arrived…another logistics disaster in itself) and all of the press was repeatedly asked to leave, I made my way near the entry point for celebs who were going on the red carpet and slipped my way inside the barricade.  I kept trying to motion for SolidMastery to do the same, but he wasn't feeling as bold.  Long story short, I tossed him the rental car keys and told him if he didn't hear from me in 10 minutes then I got in the club and he should drive himself back to the hotel.
I was proud to make my first maneuver, but it almost failed when psycho PR chick noticed me inside the barricade and immediately came over with "didn't I already ask you to leave?"  We went back and forth.  I was being playful with her just pleading my case that I had come all the way from Ohio and was supposed to on the approved list to go inside.  She wasn't having it.  So I "obliged" and turned the opposite direction from her as if I was about to leave.
I can't give up my trade secrets, but I'll give credit to my height, soccer playing agility 🙄 , determination, and some divine intervention.  I got in the club!  …and with my little camera and wireless microphone (useless at this point but bulky in my knapsack) in tow!  I wish somebody caught my entrance on tape.  I would've loved to see how that all played out.  😛
I headed into the main club area and was pleasantly surprised to see the red carpet guests (mostly hip hop celebs) just wandering around freely amongst the folks that paid for tickets.  There were VIP areas, but they weren't guarded so you could still walk up and say hello and take your photos and such.  I eventually saw Devan and slapped him a high five for a job well done on both our parts.  It was smooth sailing from here.
My personal highlights were meeting Raekwon, Ice T, and Redman.  For some reason, Redman has a magnetic personality.  Just his energy/vibe made me wonder what it would be like to hang out with him, like it would be tons of fun.
At this point, it was hustle and network city for me.  You can't get anywhere in journalism without people getting to know you…and in a positive light…and I am determined to get somewhere.
Without further ado, here are some bonus photos. They are extremely candid, so I apologize in advance to the celebs that don't feel flattered, but I tried to scoop out the best ones I had for that night. This is not indicative of what I can do photographically, but it does the trick for those of you who are reading this and just curious.  I am even tossing in some video that didn't make the original post for one reason or the other.
If you see someone that you can name that I was unable to name, hit me up via my CONTACT page or leave it in the comments. Thanks! 😉
Bonus Photos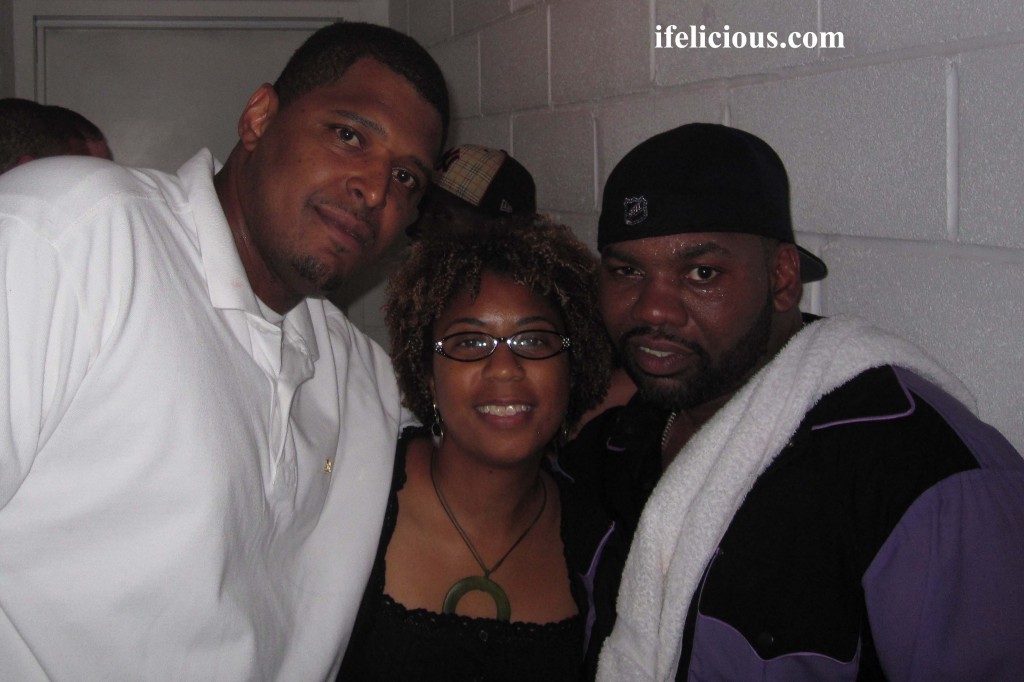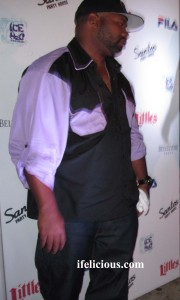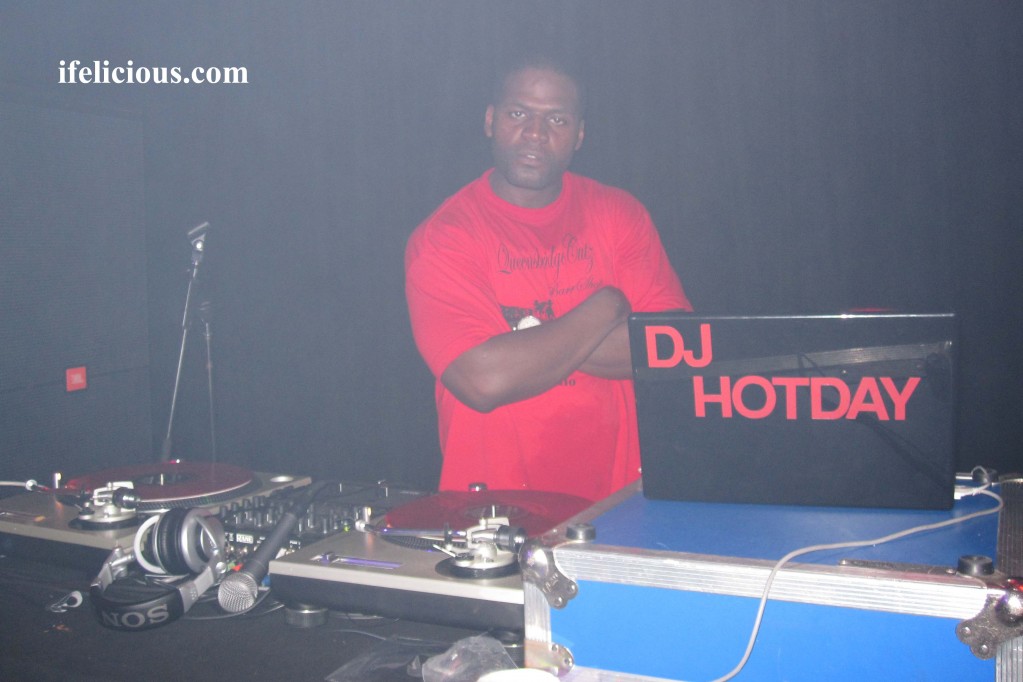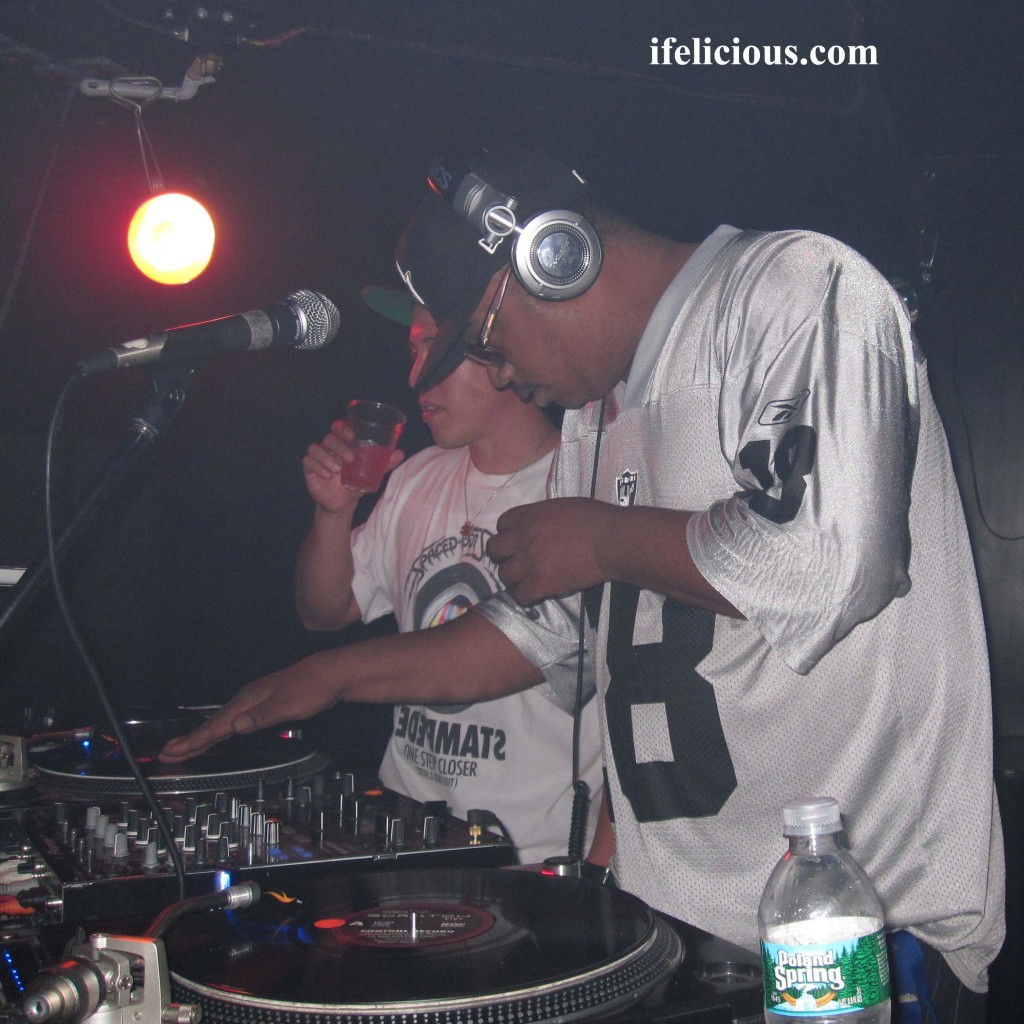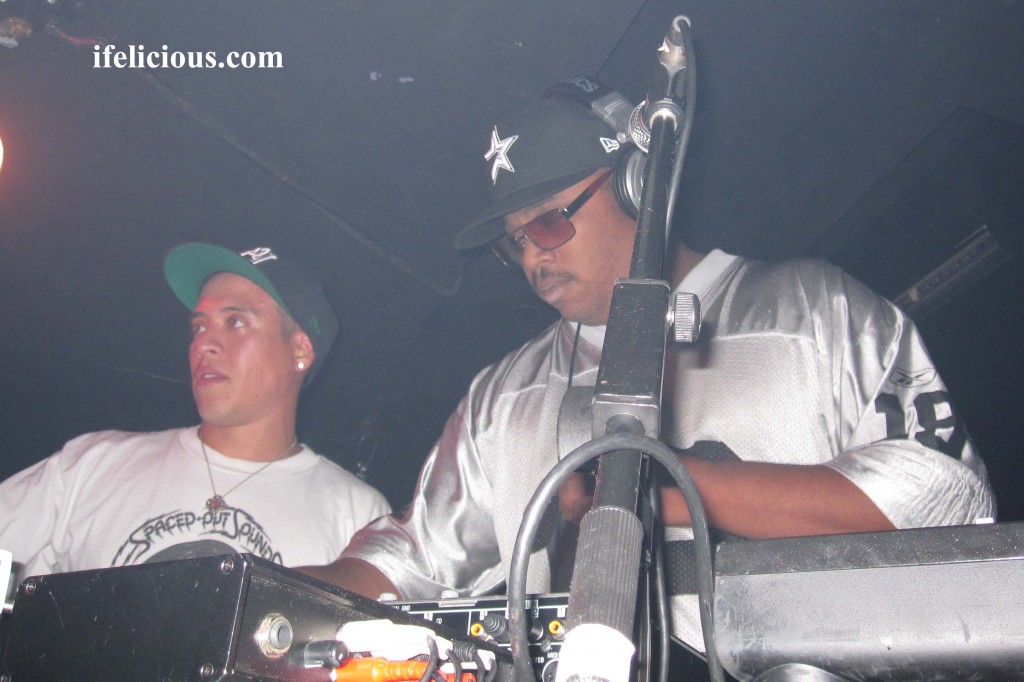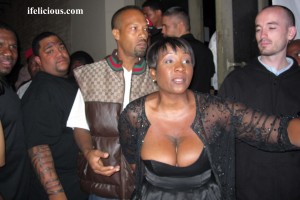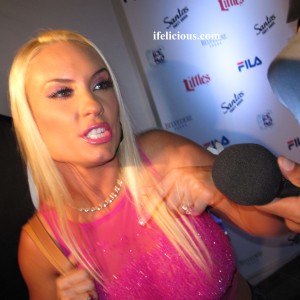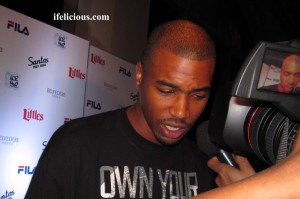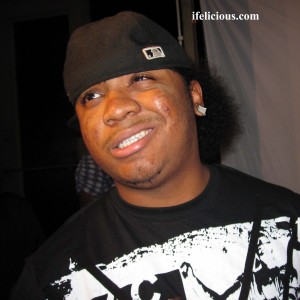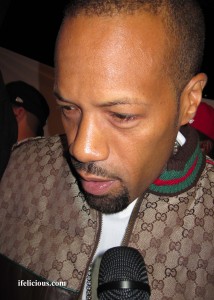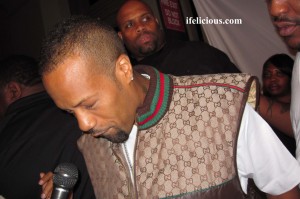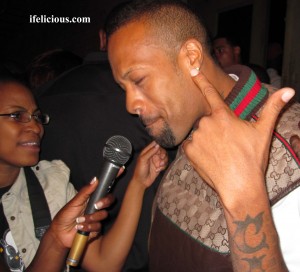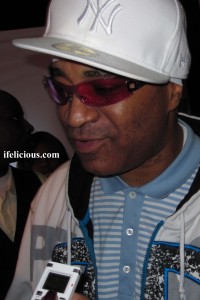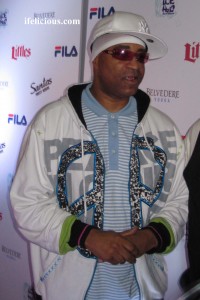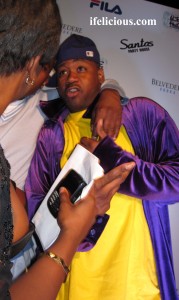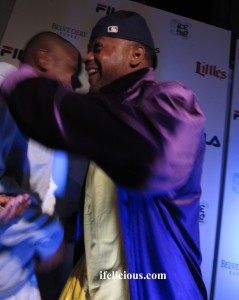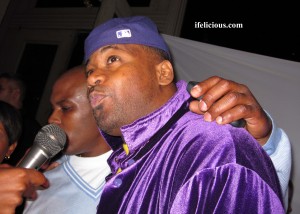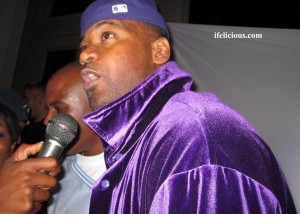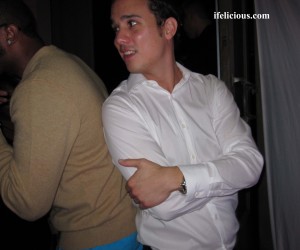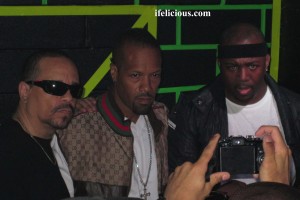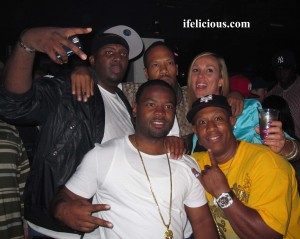 I have a few more photos with me and some of the hip hop guests that night that I put in my "Celebrity Scrapbook" on my MySpace. Friend me there if you want to see more. www.myspace.com/ifelicious
Bonus Video
LAST UPDATED VIDEO ON SEPTEMBER 30, 2009

Grandmaster Caz (The Cold Crush Brothers, one of the earliest contributors to the hip hop game)

Chrisette Michele (R&B songstress thisischrisettemichele.com)
Ice T and wife Coco ham it up with the press