The Real World Cancun reunion episode was so good that I have admittedly seen it more than once…just because.  Talk about shit hittin' the fan!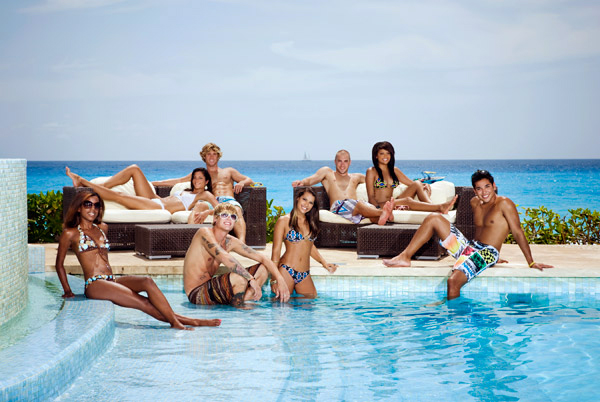 Emilee (twitter account: emileeonmtv)
Was so relatively chill during the season other than her stupid Bronne magazine trashing moment like totally lost it during the reunion, even stomping off stage within the first few minutes of the show in some alleged drama reducing move.  I actually don't really care for her anymore.  She was totally in b* disguised as feminist mode.  I hate when people blame stupid moments on being wasted.  Such a cop out.
Ayiiia (twitter id:  ay3amtv)
Now has a girlfriend?  What is it about MTV reality shows that be turning girls out?  New girlfriend Crystal, you have your hands full.
Joey (twitter id:  Joey_RozLNW)
So your dick went soft on your Ayiiia moment, eh?  Hey, I'm just writing what they bleeped out ("equipment issues").  😎   I pretty much hated your self entitled ass the entire season and was happy to see you get kicked off.  Somehow, you pull off this stud thing and I just don't get it at all.  I didn't hate you on the reunion show, to your own credit.  Good for you owning up to your ways and standing up to Emilee.
Bronne (twitter id:  BronneBruzgo)
Everybody loves Bronne.  I can't wait to see him on some of the RW/RR Challenges…I hope he does the Challenges.  He's perfect for them.  I can't believe that Emilee still wouldn't be accountable for tearing up your magazine.  I do see you as a Penn State guy and even a Marine Corps guy.  Good luck to ya!
Jasmine (twitter id: jasmineRw22)
I still love you, girl!  You were wronged this season by whore Jonna.  Glad they didn't make a big to do about the emotional drinking episode on the reunion show (didn't bring it up at all).  You go girl with the "karma is a bitch!" comment at Jonna.  I don't know why whether or not you banged Canadian DJ guy (Pat) was even a discussion.  Who cares?
CJ (twitter id:  CJKoegelRW22)
I guess you didn't make that team you were trying out for.  Keep kicking and enjoying your dad/BFF.  I'm guessing you'll probably make it as a model before the football career.  Also, looking forward to seeing you on the Challenges.
Jonna (twitter id: jonnamannion)
Is it just me or did she look coked up or drugged up on something on the episode?  She also did not own any of her actions as boy stealing, attention whore, and downright whore at times.  The Jasmine thing was downright wrong.  She definitely needs to explore her deep need for male attention off camera.  Her weave situation was looking a little better.  A curling iron does wonders but up close, it's still kinda whack.  My advice- kill the weave!
Derek (twitter id: Derek_Chavez)
You were silent during the reunion episode and pretty drama free during the season.  I love that the guys embraced your sexuality from day 1.  I've never seen that happen on the Real World before.  You and Bronne are so cute!  Glad you guys formed a bromance.  Just speaks to how universally likable Bronne is.  Surprising, kind of, to hear you're going to move to Cali with Jonna.
Maria Manounos (host for reunion show, twitter id:  youromegagirl)
Usually the hosts for these shows are pretty whack, but Maria did a pretty good job.  I would do even better, though!  🙄
Entire reunion episode below…
The LMFAO (twitter id: LMFAONEWS) performance was cool. I have that damn "La La La" song in my head now. Why they drooled over Jonna as well is beyond me. I still say that Ayiiia was the most attractive girl this season.
Watch the video for La La La including cameo appearance from headband sportin' Jonna…hideous!

Related Posts…