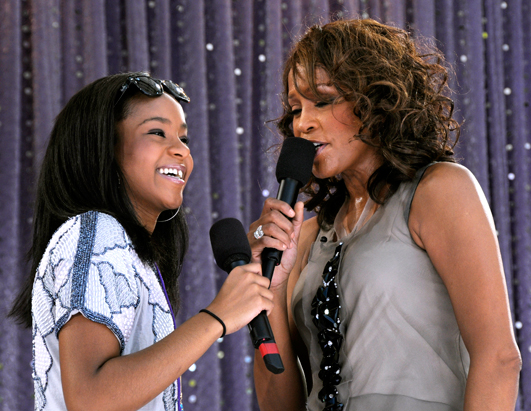 You have to admit that Whitney Houston still looks beautiful.
I really like Whitney Houston's song "I Look To You."  It's a beautiful song and well suited for Whitney's voice as we used to know it/hope to see it again. "I Look To You" is also the name of her latest album that was released on August 31, 2009.  I haven't downloaded it yet, but trust me, I will do that this holiday weekend.
Whitney granted ABC's Good Morning America a comeback concert performance that aired on September 1, 2009.  Unlike all singers that appear on morning shows, I read on Modern Mom that Whitney refused to appear on the early morning show and instead worked with Good Morning America to arrange a concert in Central Park that was pre-recorded.  You've likely heard how much of a trainwreck the performance was, and she blamed on the al-al-al-al-cohol…just kiddin'…she blamed it on Oprah having just taped her show (airs on Monday, September 14, 2009) which put extra stress on her voice.  That leaves all of us suspect whether or not Whitney still has it or not.
Watch and listen to her sing "I Look To You" in the video below.  I'll give her that it was an emotional performance as she sang to her mom in the audience, but that's the only pass I'm giving her.
Here's the ABC Good Morning America interview with Diane Sawyer and Robin Roberts (update: video has been removed) …but here are the producer's notes, "The Whitney Interview: Producer's Notes."

Related Links…