Connect with Kris Black…
Kris Black (Myspace)- myspace.com/officialkrisblack
Kris Black (Twitter)- twitter.com/4krisblack
FourTwoFive Films (Myspace)- myspace.com/jackbuilt
You can also view some of Kris Black's artwork at Stanley's Restaurant in Sherman Oaks, CA through the end of August 2009.
Meet Kris Black…
Attractive, athletic, intelligent, and creative are just a few words to describe the many faces of Kris Black.  Hailing from the small town of Westby, Wisconsin, this stud muffin left his life of a jock and college student behind to pursue acting when he turned 22.  Just shy of obtaining his Finance degree, Kris packed his bags and made the 36 hour drive to LA where he shared a tiny studio apartment with a college buddy.  After several years acting in small roles and making ends meet in between as a personal trainer, Kris joined forces with veteran writer Bruce Reisman, and the two co-founded FourTwoFive Films.  Not only does Kris work behind the scenes with this independent film production company, he also plays the lead man in their films.
Now, about 4 1/2 years into this business venture, the duo recently released their first film The House That Jack Built starring Kris as the main character Jack.  The cast includes actors such as Joe Mantegna (The Godfather: III), Gail O'Grady, (Boston Legal), Shar Jackson (Moesha), and Hal Sparks (Queer As Folk).  The House That Jack Built is a horror-thriller, too scary for me, but maybe I'll watch it and sleep with the lights on.  😉  Check out the trailer below:
Trailer of "The House That Jack Built"

Check out a red carpet interview with Kris Black at the world premiere for The House That Jack Built on July 14, 2009 at ArcLight Theater in Hollywood, California.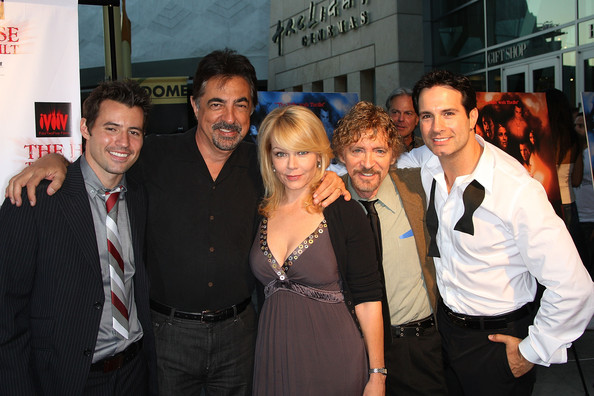 Link to more photos from world premiere CLICK HERE
Other Film Projects In The Works Include…
Five Good Years, Boarding School, From Sea to Shining, and Kris Black's directorial debut in stoner comedy 420.
INTERVIEW NOW ONLINE!!! (see links below)…
INTERVIEW WITH WRITER, PAINTER, ACTOR KRIS BLACK.  (PART 1 OF 2) FILM PROJECTS, FOURTWOFIVE FILMS
INTERVIEW WITH WRITER, PAINTER, ACTOR KRIS BLACK.  (PART 2 OF 2) MOVING TO LA, HIDDEN TALENTS, DATING
also related
MY LA JOURNAL- FRIDAY, MAY 29, 2009 (PART 2 OF 2) RED CARPET FOR DEREK STRONG PARTY