First off, forgive me for being naive but I did not know the difference between the Creative Arts Emmys and regular Primetime Emmys.  I knew that my girl Kathy Griffin was hosting the Emmys, but I had no clue it was for the Creative Arts Emmys ("Schmemmies") occurring a few weeks beforehand.  So for those of you like me, here's the clarification…it's basically the Emmys for the behind the scenes folks associated with shows like technical staff, makeup artists, costume designers and such.  If you remember nothing else just think of it as the awards categories that would be too boring for us to watch with the rest of the Emmys so they hold it on a separate day.  Very D-List, very Kathy G, and she's made some of her classic remarks while on this show in years past so now she gets to take the stage.
See, now it all makes sense!  😎
Now for the juicy stuff…
It caught my eye to see CCH Pounder nominated for her role on The No. 1 Ladies' Detective Agency.  Again, huh? Thanks to Google, here's CCH Pounder.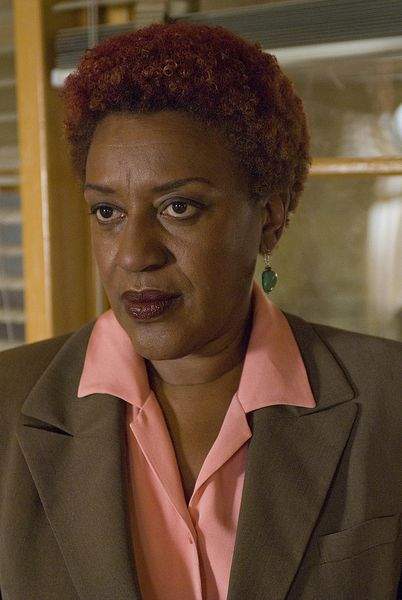 I'm getting there with celeb names.  It'll take me a moment to erase years of math and science jibber jabber with the important things in life like celeb names.  She's nominated for her role as a guest actress on the show (pssst! that's one of those Creative Arts Emmys).  If they were giving her a nom, I would have thrown Jill Scott in the mix, but I guess the board is not ready for that show to swim with the big fishies yet…or ever…who knows…
I'm on the same bandwagon that was scratching their heads at Family Guy getting a nomination in the comedy series category.  That show's been on FOREVER.  It's like Susan Lucci getting a nomination for her role as Erica Kane on All My Children… LOL.  What was so special about this past season?  I don't watch it anymore, so y'all will have to clue me in.
30 Rock is uber popular with 22 nominations.  I'm just getting into this show.  I love the cast and think the show's funny but not the funniest show I've ever seen.
Glad to see the episode of Saturday Night Live that Justin Timberlake hosted be recognized.  That was perhaps one of the best SNLs ever.  Hmm, too bad it's just in the category of Outstanding Directing for a Variety, Music or Comedy series.
Ok, let's check out a few categories and make some guesses…
Outstanding Comedy Series– Entourage, Family Guy, Flight of the Conchords, How I Met Your Mother, The Office, 30 Rock, Weeds
* I'd pick The Office but I'm thinking 30 Rock will win
Outstanding Drama Series- Big Love, Breaking Bad, Damages, House, Lost, Mad Men
* had to confer with my hubby for this one since these are more shows of his ilk.  He says Damages will win.
Outstanding Music, Variety, or Comedy Special– Chris Rock "Kill The Messenger", Kathy Griffin "She'll Cut a Bitch", The Kennedy Center Honors (huh?), Rick Gervais "Out of England", Will Ferrell "You're Welcome America"
* My pick is my one and only Kathy G but I'm thinking Will Ferrell will take this category.
Outstanding Nonfiction Special– The Alzheimer's Project, Farrah's Story, Michael J. Fox, 102 Minutes That Changed America, Roman Polanski
* My pick Farrah's Story
Outstanding Reality Program– Antiques Roadshow, Dirty Jobs, Dog Whisperer, Intervention, Kathy G. D-List, MythBusters
* Finally, a category where I'd call myself a subject matter expert of sorts.  Antiques Roadshow??  Academy what are you thinking??  That's a super yawn from me and a stretch by definition for "reality program."  That's like calling Nelly a rapper…LOL.  Ok, seriously, this is tough.  My heart wants Kathy G, but then I want to give some love to my main man Cesar Milan with Dog Whisperer.  Ok, I'll do that, however, I don't think either will win.
Kathy reacts to her Emmy nominations

See also my accompanying post "2008–2009 Primetime Emmy® Awards Nominations (press release)"
Other interesting reads…
The Academy of Arts and Sciences (where's the "science"??)- Emmy downloads page
The Envelope– "'Offensive' Kathy Griffin to Host Creative Arts Emmys"
E! Online– "Kathy Griffin will host 'Schmemmys'"
The Detroit News– "Emmy nominations missing some contenders"