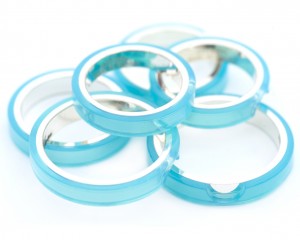 I just saw this on the NBC Today Show this morning and found it to be a pretty neat idea.  I wonder if single rings will catch on in the US.
(PRESS RELEASE)
In 2005 Singelringen® launched the first ever unisex ring for singles, and has since then sold more than 250,000 rings worldwide. With an eye to the future, Singelringen now launch an entire collection of single's jewelry in co-operation with one of Europe's largest jewelry manufacturer, Argyor S.A of Spain.
The collection encompasses three different base products – a bracelet, a necklace, and a mobile phone jewel. The original ring and the new collection – by way of their very special turquoise color – all signal that the bearer is single and free.
When buying our jewelry the buyer automatically becomes a member of the Singelringen®Community – a global life style singles community on Internet.
During the three years since launch in 2005, Singelringen has been established on four continents and in twenty countries, and has sold more than 250,000 Singelringen rings. Now is the time to widen our product line, says Johan Wahlbäck, the founder of Singelringen.
The demand from both clients and retailers to widen the assortment to include more products has inspired us to develop and launch the Singelringen Collection, which will take place on March 19, 2009. We have designed a collection of Singelringen jewelry together with Argyor S.A. of Spain; one male and one female collection with three base products – a bracelet, a necklace, and also a mobile phone jewel. All by way of their special turquoise color signaling that you are single. The men's collection will be launched in May 2009.
Complementary to the female product line there are some thirty charms, with ten to be added every second month. By adding these you can personalize your single's jewelry and signal who you are based on your personality – whether you prefer to put it on your wrist or around your neck. We will combine our Community concept with this personalized jewelry.
Having so far sold Singelringen mainly via Internet, Singelringen® Collection will now be available in more than 1,000 retail stores in Europe, Asia, and North and South America end March 2009. This way availability will be drastically enhanced – and so will membership and access to the Singelringen Community on Internet be, says Johan Wahlbäck, the founder of Singelringen.
The price for the female collection will start from USD 49.00/€39.00. All products are made in Sweden and Spain in 925 Sterling Silver.
Pre-view website:
For more information and picture download, please visit www.singelringen.com/collection. The website is in English, Spanish, and Chinese.
About Singelringen®
Singelringen® was founded in Sweden 2005 by serial entrepreneur Johan Wahlbäck. It is now being sold in more than 20 countries on 4 continents around the world and reached a total sales of over 250,000 rings. The concept has received repeatable mentionings in media and Singelringen has been seen on several celebrities like Paula Abdul, Katie Holmes, Terrence Howard, Juliette Lewis, and many more.
Singelringen® Philosophy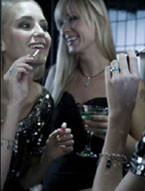 Singelringen® is as much a philosophy as it is a product. By wearing Singelringen® you declare that you want to make the most of your single hood, rather than to chase the quick love. You believe you have to love yourself before you are able to love someone else, and take the opportunity to full fill yourself before finding the right partner. By enjoying your freedom of being single, rather than being stressed about it, you become much more fulfilled and attractive. That in itself makes you a much more attractive partner.