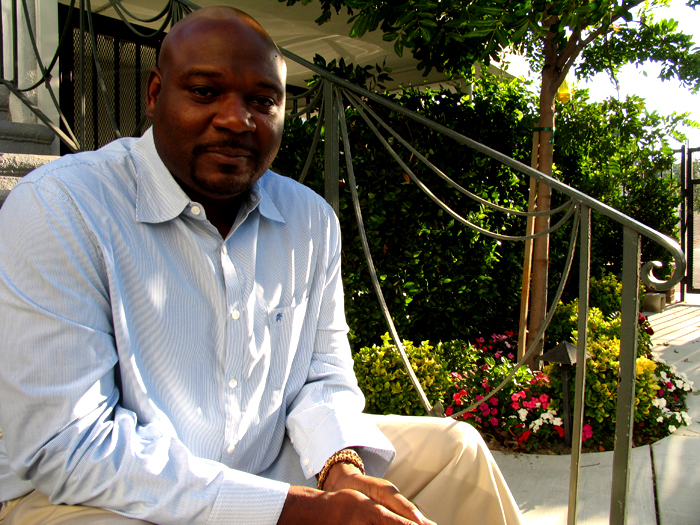 Angelo Bell is an award winning screenwriter, filmmaker, work from home dad of 4, and husband.  He grew up in New York but decided to move to LA back in 1995 in order to be closer to the movie mecca of Hollywood.  Initially, Angelo worked full time as an IT professional for a PR company in the LA area while pursuing his film career on the side- entering original screenplays in contests and writing for others.  While that generated modest success, Angelo wanted more.  Over the past year, Angelo has transitioned to writing and filmmaking as his full time occupation.  His work has not gone unnoticed either.  Since we last spoke, Angelo's latest feature "The Broken Hearts Club" (www.brokenheartsclubfilm.com) has been accepted into the Hollywood Black Film Festival this June (www.hbff.org) where he'll be rubbing elbows with Hollywood's greatest actors, writers, filmmakers, and producers.
One of the best ways to show your support for an independent artist is to purchase their work.  A listing of works from Angelo Films and more information can be found by going to www.angelobell.com.  Just so you get a flavor of Angelo's work, I've copied the short film summaries from the "Pulp Fusion: The Raw Shorts" DVD his website for you below.
"Renounced" – a heroin addict risks everything in a desperate attempt to get clean.
"Valerie & Sid" – on the lamb in a cheesy hotel room, two women face off; one is a wildcard assassin, the other a vulnerable office secretary. But what connects them may also be their downfall.
"Get Spielberg" – Four wannabe Hollywood movie stars inadvertently kidnap the most famous director in the world while trying to get their film produced.
"I Know Who Shot You" – A businessman receives a call from a psychic who claims to have knowledge about his pending murder.
"The First Time" – Two thieves are forced to deal with psychotic repercussions when their robbery attempt goes horribly wrong.
By the end of our interview, my impression of Angelo was that he's very talented, intelligent, focused, and motivated.  We all have dreams and aspirations but so many falter in the pursuit.  Angelo is definitely on my "artist to watch" list, and I'm to share our conversation with you.  If you're an aspiring filmmaker, this interview is a must read.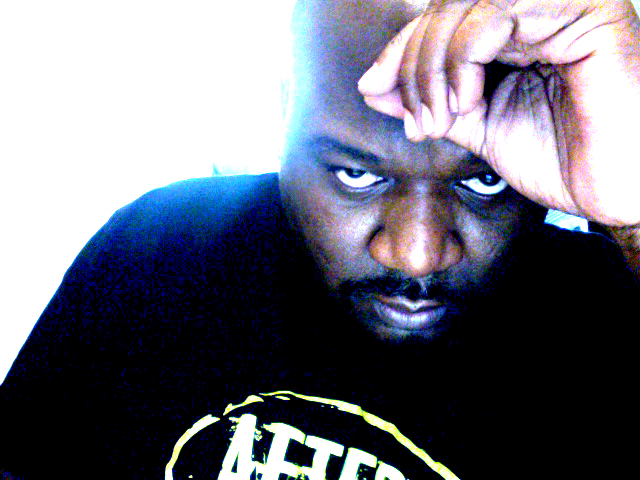 Ifelicious:  When did you decide to pursue filmmaking full time?
Angelo:  "When I came into contact with Robert Rodriguez's book 'Rebel Without A Crew,' and I must've read it like 5 times, and I just said 'Screw this!  I'm going to make my own film'…I knew nothing about film.  I knew nothing about cameras.  Nothing about shot selections.  Nothing about lighting.  Nothing at all.  So, I just kind of dove in and I wrote a script.  It was called 'Get Spielberg.' It was like most filmmakers…their first film is about the industry, well, so is mine.  It's about 4 wannabe Hollywood types that kidnap Spielberg and try to get him to green light their film…After that experience, I was hooked…I think that was around 2003."
Ifelicious:  Have you always been interested in writing?

Angelo:  "I remember the moment in 4th grade when I decided I wanted to be a writer.  It was like a creative writing class.  We had to take a sentence and write a paragraph and come up with a story, and there was probably about 50 index cards in there, and I went through the entire box and wrote a story for every one of them."
Ifelicious:  What are your inspirations when writing a screenplay?
Angelo:  "Music is a big inspiration for me.  Lately, I've become attuned into dialog and vocabulary.  So, I'll listen to how someone speaks and if there's some interesting nuance about that, I'll try to incorporate that into a scene, then turn that scene into a concept, then turn that concept into a script."
Ifelicious:  Tell me about 'Pulp Fusion'.  I never heard that before.  Is it an original concept of yours?
Angelo:  "The interesting thing about 'Pulp Fusion' was that I thought that I had come up with this cool term…There's actually a band, an independent band that their music is entitled 'Pulp Fusion.'  Basically, it's a fusion of different musical genres which is why I used it for my filming endeavors.  It's kind of universal in that aspect…Obviously, there's the whole pulp cinema thing to my stuff, like pulp films of the 30s and 40s, and then of course now what we now attribute to Quentin Tarantino (pulp fiction)…but it's definitely not my concept."
Ifelicious: I'm still getting familiar with what qualifies films as short film versus full length feature.  I know you have done short films.  Have you done any full length feature films?
Angelo: "I have made 2 legitimate feature films ['Sex With Unicorns' and 'Broken Hearts Club'], and by legitimate I mean they are well over an hour.  I have another film that is around the 45 minute range, and in some venues they consider that a feature, other venues they consider it a long short, and in still others they consider it a failed feature because it's not quite long enough to be a legitimate feature.  Most of my films have been shorts.  That was really for economical reasons.  There's this huge learning curve when you're stepping into the industry and you don't have a film school background.  So the way I wanted to expedite that learning curve was to make as many films as I could."
Ifelicious: Who are your influences?
Angelo: "My favorite films are action films with a strong emotional context…Michael Bay is a big influence of mine, Jerry Bruckheimer who gave Michael Bay a start as a producer…Michael Mann…when he writes his stories or his characters just have so many levels that I try to emulate in my writing and consequently in my directing.  I mean, I guess would have to say Stephen Spielberg, too, because he's just one of the greatest filmmakers of all time.  Those would be like the top.  Spike Lee's rebelliousness, I like it.  I'm a fan of it.  I'm a fan of anyone who stands on their own…That is inspirational.  And that so many of his techniques have been mimicked by so many filmmakers."
Ifelicious: As you say that, the question came to mind, do you have a signature shot?
Angelo: "I've thought about that…I don't have one, and I think I don't have one because I think I come from a writing background as opposed to just a directing background.  I'm looking forward to some words, some exchange of dialog to be my signature as opposed to a shot.  So, I do think that I have a signature in my dialog…and that's usually an offbeat or obscure retort to something that's said that kind of makes you go 'What did he mean by that?' and brings on this flood of thinking that you have to engage in in order to understand."
Ifelicious: I had a conversation with a friend of mine who is also trying to make it out there in film about where we think we will be one year from now…If you and I were talking one year from now, what would be talking about?  What do you think you would have accomplished over the 365 days?
Angelo: "I think a year from now, the main topic of discussion would be how I managed to work around the studio system to get my films out to the audience…I'm learning as much as I can right now about self distribution…[Also, that I've] successfully marketed to a global audience."
Ifelicious: How do you handle casting and funding?
Angelo: "I've done some of the weirdest things to get funding.  I've sold…a credit repair information package and that helped me fund a lot of my short films…The company that I worked for…we got payouts from profit sharing every year…and so I used that money to keep the process going…I've really been lucky…

…Now as far as casting is concerned, I do all of the casting myself.  I look for someone who understands the nuances of the character as they are written and then adds something to it for themselves.  Then, I'm also looking for someone who is easy to work with because there's not a lot of money floating around and you're working 18, 20 hours, personalities can start to, you know, click at 2 o' clock in the morning and everybody's tired and wants to go home…"
We digressed a little, continuing on about actors and SAG.  Here's some of that conversation.
"…The key thing is that there is a lot of talent out here in Los Angeles and they're not always in SAG.  They're not always part of a union, and sometimes a real stupid reason why they're not a part of a union…but they are huge in talent.  Evidence of that is that I've worked with folks who were not in SAG…and then 2 years later they're going up against some of the top name celebrities in the business for roles because they finally got into SAG and now they're recognized…There's one actor in particular who's in 'Broken Hearts Club' whose name comes to mind…"
Ifelicious: Do you mind me asking the actor you're referring to?
Angelo: "His name is Andrew Elvis Miller, and he's an amazing phenomenal actor and he's at this point in his career where low budget films…because his agent's saying 'You're bigger than this,' but then when he goes for these studio films, he's going up against this top level talent.  The people we see on tv…and I'm hoping that when 'Broken Hearts Club' comes out, because he's phenomenal in it, that people will start taking a second look at him."
Ifelicious: Do you have a mentor?
Angelo: "Yes, I do have one who knows the particulars in the area of self distribution…His name is Tony Comstock.  He has his own production company.  It's called Comstock Films (www.comstockfilms.com).  He's actually based in New York.  He's mostly a documentarian.  His films are, umm, I don't want to just say erotic because they're not just erotic.  He explores areas of love and relationships.  So each of his films are about a couple, a real life couple, and how they manage their interactions together.  Interracial couples, gay and or lesbian couples, older couples, younger couples.  Just, you know, the challenges and adversities face based on whatever environment they are involved in…His success has really been in being able to navigate a labyrinth of stigma attached to film, to some of his films, and find an audience that can appreciate it for what it is.  He's a big supporter of and receives a lot of support from the gay and lesbian community."
Ifelicious: Have you acted in or have you considered acting in any of your own films?
Angelo: "Very interesting that you ask that…I was in one of my films, a film called 'Valerie and Sid' and it was a non-speaking role but the person had to be very imposing and very mean and kind of gangster looking basically, but there was no dialog so I was thinking 'Who in the world is going to take this role?' So I did it.  It was a real small thing. I shot it like one day.  But in 'Broken Hearts Club' now (the feature), I'm actually going to be doing the narration for it…So I am going to appear in my films, one way or another."
Ifelicious: Any advice for aspiring filmmakers?
Angelo: "Don't be afraid to ask for help.  Don't get discouraged…Find the thing that inspires you.  This really cool trick that a friend of mine that worked for one of those personal coaches came up with, and um, I hope I get this right, 'Motivation plus Inspiration equals Momentum.'  So when you use that as a formula, just by shear nature of who you are…there certain things that motivate you.  So go back to those things- if it's your favorite movie or your favorite song or your favorite park…Go back to that thing that inspires you.  It could be Martin Luther King's speech, or now it could be Barack Obama's acceptance speech.  Whatever inspires you to believe that you can do whatever people are telling you that you cannot do…and that gives you that momentum to go one more day."

Thank you, Angelo, for introducing me and my readers to your film.  I look forward to checking out your current work as well as what lies ahead.