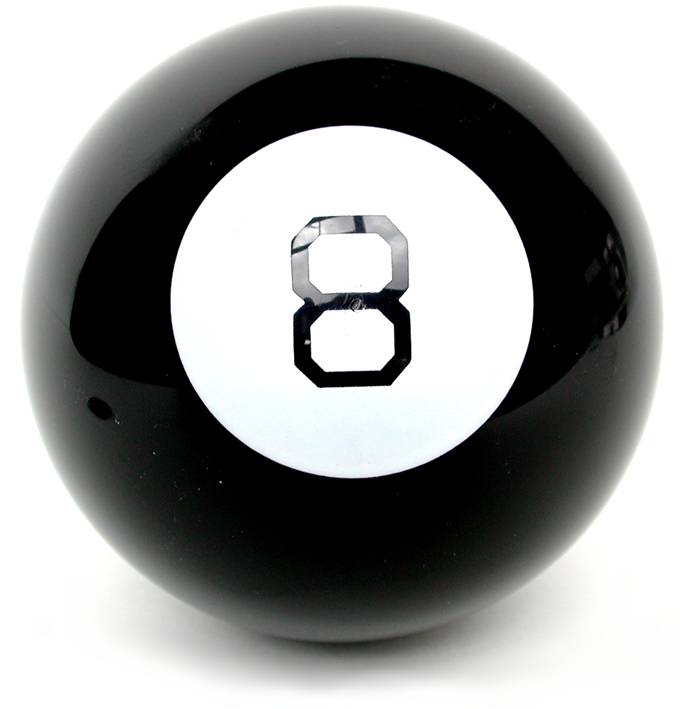 First, let me ask my Magic 8 ball if there's a future for Danity Kane?  …My Magic 8 Ball says "Yes."  We'll have to see if my "spiritual advisor" is right.
MTV.com has published several articles recently with Dawn Richards and Shannon Bex from Danity Kane.  Here are some snippets just to give you a taste of the chatter in the air.  We definitely ended Making the Band: Season 3 on a cliffhanger.  The second half of Making The Band: Season 3 will definitely start out juicy.  I can't wait for the season to resume on February 12…
DANITY KANE ARE OVER, DAWN RICHARDS SAYS
When "Making the Band" returns on February 12, fans already know two former members will be missing: Aubrey O'Day and D. Woods, who were dismissed from the group by Diddy last season. But they'll probably be surprised that Shannon Bex isn't there either, which apparently means the end of the band…

…"You'll see me and Drea [Aundrea Fimbres] try and pick up the pieces on our own [on this season's show] — pieces that we didn't even make," she continued. "We didn't even break it and we're trying to sweep it up ourselves. Puff invited all the girls to come back on this season and they chose not to. Only two of us showed up. That's fine if that's the choice…

…Richard said that Bex apparently made the decision not to show up for the season on her own…

…"I was there every day, on my own. Sometimes Drea was there, sometimes she wasn't, 'cause she had to go fix some stuff at home," she said. "So it was me and six guys, which is great 'cause I'm a guy girl! It was fun. [But] it was very hard not knowing what the next step was going to be."

One thing that Richard is certain of is her disbelief at everything that's happened with Danity Kane in the last few months, which not only included the two dismissals but also news about Aubrey O'Day's sexuality and her forthcoming Playboy spread…
ooh Aubrey!  I posted about Aubrey O'Day in Playboy (http://ifelicious.com/?p=1477), but I hadn't read about rumors about her sexuality.  I don't care per se, but you know Aubrey broke my heart with how she's just gone buck wild.  It's hard to know what's really up with her.
DIDDY DEVESTATED OVER DANITY KANE SPLIT, DAWN SAYS
Richard insisted that she can't speak for the other girls and doesn't know where they stand on trying to make it work again. "The last time I tried to speak for someone," she said, "they blew it up the wrong way."…

…She even touched on the rumors that Diddy kicked Aubrey O'Day and D. Woods out of the group last October in order to set Richard up for a solo career. She said that since she doesn't even know if she has any career at this point, that is the furthest thing from the truth.

"No one is in cahoots with Puff," she said. "Puff is in cahoots with himself. Everyone who knows Puff knows Puff rolls with himself. His hustle is money. That's what he does. I'm just devastated. I wish the rumors were true."

She's hoping that Diddy will recognize since she was one of the few willing to try to make Danity Kane work that he'll give her another chance.
SHANNON BEX DISHES ON DANITY KANE'S FUTURE
"Well, I can't spill anything," Shannon Bex told PIX 11 News in New York City. "You guys got to watch the season."
Bex did say that just because O'Day and Woods are out of the group doesn't mean they're forgotten. "I just talked to D. Woods yesterday, actually," she said…

…Now that O'Day and Woods are out of the group, they've each confirmed working on solo projects. But does Bex have any plans to go solo?..

…But there is one unusual passion that Bex would like to pursue when she finds the time. "Something I would love to be a part of is 'Extreme Home Makeover,' " she said. "I just bought a house [in Oregon], and I'm, like, doing the remodeling."
Do you think Danity Kane will get back together?
Do you think Diddy is motivated to keep the group together to keep the cash flow coming in from Making The Band?
Were you shocked at reading the news posted here about Shannon Bex also leaving Danity Kane?



Are you a Danity Kane fan?



Let's face it, Diddy did way better than boy band maker Lou Pearlman (Backstreet Boys, *NSYNC, O-Town) with the Making The Band series.  Diddy has run with that show since Season 2…BTW…what happened to folks from Da Band? I know it fell apart but there was some real talent in the mix.
I guess we just have to hold out until Making The Band 4: Season 3 (the second half of it) resumes on February 12, 2009.
Well, "Showstopper" is still my main ringtone with or without Danity Kane intact.