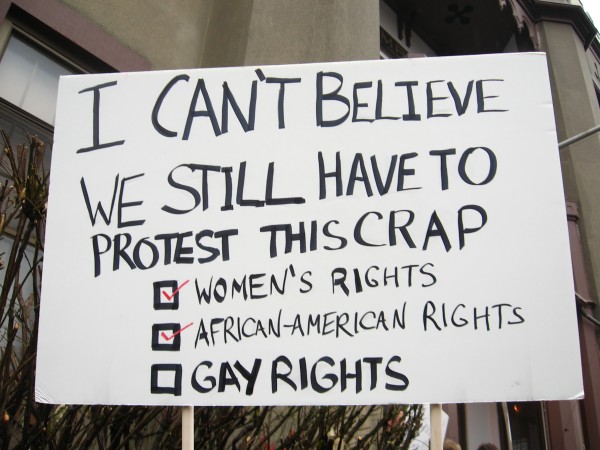 (photo above from the article "About Time, California" on The Frustrated Optimist's blog)
First off, I had an awkward moment at work last night as a male began recounting a story about a former gay employee amongst a group of folks kind of in coffee chat mode.  I knew it was headed nowhere fast and I started out with little comments like "I'm not participating in this conversation" and "that's not brand."  Eventually, I told the person that I was offended on behalf of all my friends who are gay, and jokingly "threatened" to take this homophobe out in my neighborhood sometime.  There was one other person in the room making eye contact with me as if we were on the same page but didn't say anything.  How many times does this happen at work on this subject or other controversial ones?  It's hard to take a stand, but I'm finding it more important to do so as tough as it may be at times.  I would want someone to do the same on my behalf if something offensive to me came up as a woman or a woman of color or whatever.
Have you ever had a moment like that at work?  If so, did you speak up?
So, I'm reading the Huffington Post article on how there's this blacklist of everyone who financially supported Prop 8 but it's a listing of individuals not corporations.  However, if you read to the end of the article there is a link on AfterEllen.com with a list of corporations who supported Yes on 8.
The list of corporate supporters of Yes on 8 can be found at this link
http://www.afterellen.com/node/39787
If this is subject has been of interest to you, click the link below for the full Huffington Post article and share your thoughts here.
THE ANTI-GAY BLACKLIST (from Huffington Post)
There's lots more interesting events going on in light of California's decision (like Dec 10 being A Day Without A Gay), so I encourage you to read more about it.  I try to keep this blog more on the lighthearted fun pop culture side, but occasionally nutty stuff in our world calls my soul to be a responsible blogger/journalist.