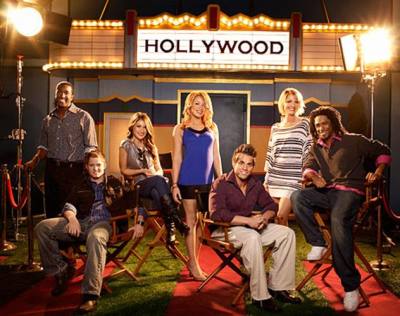 Yes, my friends, all mediocre things must come to an end. I watched this season in its entirety, conflicted the entire time, threatening to boycott, realizing my own addiction which I prefer to refer as dedication to the show. I'm tired of the stereotypes, but what more to expect from MTV. The station is iconic in itself. I do wish they did something great with the 20th season, you know? Like an around the world excursion or have the cast do some life changing volunteer work or do something that pays homage to memorable moments of seasons past. Hey, what if they had brought together a collection of alumni from prior seasons? That would've been cool. Who do you think they should've picked?
Anyhooz, here's my notes when watching the show (yes, that's what nerdy bloggers do sometimes). What do you all think of the season finale?
Mental notes while watching the last episode of the season
Andy Dick and Charna make dinner at the RW house…
Cute, I guess, that they all got together with Charna and Andy for a good bye dinner. Odd…I'm guessing Andy has sobered up, and why he is in the MTV network of peeps to drum up I just don't know…
Kimberly Alexander, 25, from Columbia, SC…
"No one will let me sleep!" That's her excuse for not doing more with her time in LA? You would've needed major speech therapy (or whatever they call it) to loose that southern twang…and shake that overly flat ironed hairdo. Your hair's stiff as if you want to be the one thing you shun…a BLACK girl! (Ya, I'm hating…can't help it). "Never leave time on the table, baby!" I do relate to that moment, though, as part of my blogger evolution/revolution. Don't let that end a dream…unless it was just an idea you whored to get on the show. Good job getting Dave's shiner not to shine. Maybe a makeup artist is more your speed.
Joey Kovar, 24, from Chicago, IL…
OH YEEEAH! Glad to see he's on the up and up and staying clean/sober. He is sooo the construction guy and soooo the MTV guy. What's up with referring to Elaine as his "current" girlfriend. I have a feeling we'll see more of him down the road. He'd be great for those challenges, too. Plus, he fits the "The Miz"/Danny (RW Austin)/that guy who got kicked off for dating a MTV staff person. Nice of Charna to hook him up with IO improv in Chi-town and to be the one to invite him out to LA for the cast's last performance. You're right, Joey, "you never know what life's gonna throw at ya." Going home was the right thing for you to do at the time. Staying clean and sober is not something to do under the influences of Hollywood whose heartbeat is everything not clean and sober. Your good bye letter to cocaine and alcohol was very touching. Too bad, your fellow roommates went drinking that very night. Where's the real love, man?
Will Gilbert, 25, from Detroit, MI…
That relationship with Janelle is not going to last.
House on the hill? Ginger kids? I'm still stuck on the fake tears from the last episode. Just wait 'til she sees that.
BTW, I had to google her to remember which season she was from because there's so many of the biracial curly headed brown girls in the RW alumni that I could remember which season they "copy-pasted" her into. If you're going through the rolodex in your mind right now, I'll save you the google search. She's from RW Key West.
Dave Malinosky, 22, from Waynesboro, PA…
What was up with the punk who wanted 10 seconds of fame? Why was Dave such a punk curled up in a ball on the ground while everyone in the house joined in on the beat down?
Brianna had more balls than he did. You go girl! Other than that, Dave, I did actually liked you this season. You kept it real in your final moments as you regretted your hookup with Kim.
We've all had that moment, bro. We'll forgive you this time. 😉
Mexico trip…
One word…yawwwwwwnnnn!The most uneventful trip of all the RW seasons. Usually this is where the drama gets to boil over and is usually 2 episodes. Instead we got one lousy episode whose highlight is swimming with Dolphins in Cancun and Will kissing Brittini. Whoop-de-do!
Sarah Ralston, 21, from somewhere (like never never land)…for real from Phoenix, AZ

Lose the holier than thou demeanor. It's sooo not Hollywood…maybe more suited for the 700 Club…and just not a nice trait in general. I think your voice is annoying for entertainment reporting or anything that requires you talking. Lose the staccato in the way you speak, and I might start to believe in you. I see an overachiever so I'm sure you'll bulldoze your way into some great.
Brianna Taylor, 20, from Philadelphia, PA (really the outskirts but we'll let her pass)…
Bri, Bri, Bri…Talk about a gal with so many sides to her persona. I'm glad they did eventually manage to scrape up some footage off the editing room floor depicting a softer side of you before the season ended…but they didn't do that enough. I think this RW break was a defining moment for you. There's something very "little girl" about you that makes me just wonder about your life's journey. Put some clothes on and do your thang!
Brittini Sherrod, 22, from Janesville, WI (oddly enough I've been there before for work, crazy story about my client involving all kinds of corruption, but me no touchey that in this post)…
The walk definitely does need work. We didn't get to see enough of you this season for you to have a place in my heart. Just do you, I guess.
Nick Brown, 23, from New Rochelle, NY (lovez the NY accent, it's so man)…
Ditto to my comments about Brittini (the just do you part). You are very SportsCenter looking, so we'll see…
Final IO performance…
Hello WTFers! How unappreciative was that for them to not think of getting flowers until the very last minute? Brianna, you are really a performer, and I'm glad to see you pictured in a t-shirt and jeans for like the first time all season. I guess the show was cool. I like the concept of doing improv, but it just added to the oddity of the season. Charna was the most interesting part of that whole IO experience. Awww, look at Will getting some RW alumni lovin' from Janelle. Wonder if that lasts beyond the season.
NEWS FLASH!!!
This just in…PretyBoy (Greg Halstead from Daytona Beach, FL) was not invited to the IO final performance nor appeared anywhere in the last episode (not even one of those clips showing what he's been up to). I repeat! No PretyBoy on the last episode! Justice is a beeyatch man! 😎 LOL!!!
On leaving…
Parting is such sweet sorrow… Dave, you should regret hooking up with Kim. 😉 Sarah and Kim…blah, blah, good bye. Kim is proud of Brianna?? I don't feel that was genuine. I do think Brianna served to challenge Kim's thinking. Will, you were a sweetie all the way through. Janelle is really pretty. Don't jack that up anymore. Lose the collection of Michigan State and Detroit shirts, and that's not because I am currently am trapped…eh-hem…I mean residing in Ohio. Nice to see Brianna be the last one to leave. You're that caterpillar just waiting for your butterfly moment. Just don't become a moth instead.
And that, my folks, is a wrap!!!