It seems that opportunities abound for child actors today, from tv to film and anywhere in between. At the same time, I often worry about the challenges they face as they live that delicate transition between childhood and young adulthood before our very eyes. Recently, IdealPR presented me with the opportunity to interview teen actress Paige Hurd. After speaking with this young lady on the verge of her sweet 16 birthday, I can assure you that Paige has her life on point and is definitely a talent to watch.
As Tasha on CW television sitcom "Everybody Hates Chris"…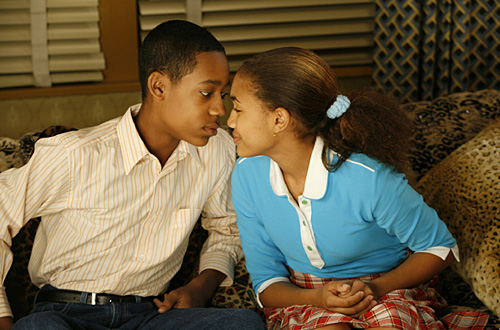 While the name Paige Hurd may not readily ring a bell to some of you, she has quite the resume that will grab your attention and make you fall in love with this young, charismatic actress. Most notably she regularly guest stars as "Tasha" on the CW television sitcom "Everybody Hates Chris." Tasha lives with her grandmother Louise (played by Whoopi Goldberg) and is one of Chris's neighbors. "According to Chris, she is the only girl who doesn't hate him" (from http://tv.wikia.com/wiki/Everybody_Hates_Chris . Those of you who have been watching the show, inspired by comedian Chris Rock's own childhood, have been rooting for the underdog Chris (played by Tyler James Williams) to finally land his dream girl Tasha…who's a bit of a bad girl. Since Paige guest stars on the show, I asked if there were any plans for her to continue to appear into next season.
I think they are [going to keep me] because I just got a mom on the show, so I don't think I'm going anywhere anytime soon. The mom is being played by Tisha Campbell.
Here's what Paige had to say about being on set.
The kids are always together and joking. The adults are always watching and joking with us…It's fun because it's a comedy, and it's a Chris Rock show so it's always comedy.
On turning 16…
(flyer image from pagehurdsweet16.blogspot.com)
Paige will be turning 16 on July 20th, and I just had to know what she had planned.
I wanted to have a big party and then I was actually hesitant but then I decided to do it. We've been planning a lot for a long time.
For more details on the many festivities Paige has planned, check out my post Paige Hurd Gives Back on Her Sweet 16. While her party plans will certainly be no small affair, Paige has made a commendable decision to raise money for childhood cancer in lieu of gifts. It is promising to be a star studded event with performances by Chingy and her close friends, young rap group Small Change.
…however…I don't know of a 16 year old out there that doesn't want a car for their birthday.
I didn't want to ask for a car for my birthday because I didn't want to overdo it.
Mmm-hmmm! I was soooo not buying that.
I know how to drive, I just have to go to driver's school…I have to keep my permit for 6 months so I'm trying to get it this month [May] so I can get my [driver's license] around October so I can see if I can get a car for Christmas…I want and Audi or like a truck.
Now, that's what I expected her to say. 🙂
About school…
I wanted to know how Paige makes time for school.
I'm home schooled, but when I go on set there's a private tutor.
When I heard Paige say that, I wondered if she feels like she's missing out on classic high school experiences like homecoming and prom.
Through my friend, I went to homecoming…other stuff I haven't been able to really do. Right now, it's basically school and [my career].
On moving to LA…
Paige moved from her hometown of Dallas, TX to New York for a short while and finally over to LA. For those of us who have moved around a lot know how getting adjusted can be tough sometimes. Paige's experience was no exception.
Moving here was really weird because I was so young and it was like a whole new environment. I would get made fun of because I had a Texas accent [by] the kids in school and with acting…but it's all good [now].
I can't even hear a hint of a Texas accent in Paige's voice so I'm guessing she worked REALLY hard to lose that in LA. 😎 Although, she grew up in Texas, Paige's heritage includes family of African-American and Puerto Rican descent, so shout out to all you boricuas and lashaquitas out there! 😉
Curve ball…
It's funny how we all tend to paint a picture of people's lives from so little we know about them. I was reminded of that during the interview as Paige shared that she has 3 pitbulls. The picture above is of Paige and her pitbull Vanessa who was a gift from DMX after filming "Cradle to the Grave" (named after Paige's character in the movie). I had soooo pictured her the gal with the tiny poofball of a dog that hung out on her princess bedroom furniture. Not so my friends! To top it off, this homegirl can rap and is considering that career option as well. Uh-oh! Do I sense a little "gangsta" behind Paige's infectious smile that conjures the inner child in all of us?
For more on Paige Hurd…

Want to know more about Paige? Check out her Sweet 16 blog and buy a raffle ticket (http://paigehurdsweet16.blogspot.com). All proceeds will go to childhood cancer charities. You can check my post for more details. Also, be on the lookout for her appearance in a music video by Atlanta based rap group Small Change for the song "Don't Be Shy." It looks like it has already leaked on youtube, so you savvy folks can search for it there. The song will be featured on the music soundtrack for the movie "Another Cinderella Story," a direct to dvd film, set to be released this Fall.