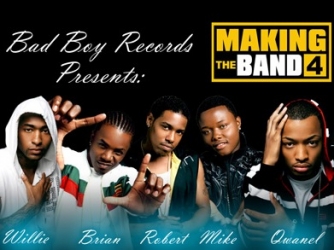 I can't bear to watch another episode of Making the Band 4 where Robert is acting like a punk. He needs to check his ego and stop doing the whiny bitch thing, or as Diddy calls it "bitchassness". Good call, Diddy, on the shirts. You're still a pimp at heart.
If I don't buy the album, it's really because of Robert. I need to be convinced that he, and really the rest of the group, really pulled it together. I'm not feeling them like Danity Kane. I was glued to those seasons. These guys are BORING!!! Plus, I don't have a crush on any of them. Plus Plus, I already told you their name Day 26 sounds like a menstrual cycle. I feel like handing them a tampon.
Ugggh! Season be over already!
update 7/30/08:  Looking for the No Bitchassness tees or the reaction to Diddy's latest self promo?  Check these spots
http://shesoghetto.wordpress.com/2008/05/01/no-bitchassness-same-message-different-flava/
http://www.celebrityclothingline.com/p-diddy/no-bitchassness-tee-shirts-by-sean-john/
http://globalgrind.com/content/34519/Disgruntled-Sean-John-Customer-Mad-Over-NO-BITCHASSNESS